How Much Baby Food Purees Cost
Baby Purees! Per Ounce Price of Popular Brands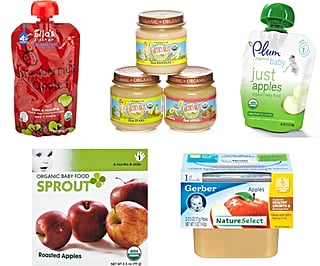 Where's the eats? Once baby gets the OK to have more than breast milk or formula, fruit and veggie purees quickly become a household staple to satiate wee appetites. Some tots can consume quite a bit, so we've run the numbers on how much it costs.
Gerber 1st Foods Applesauce — 16 (2.5-ounce tubs for $10.49) = 26 cents per ounce
Plum Organics Just Fruit Apples — six (3.17-ounce pouches of $7.29) = 38 cents per ounce
Ella's Kitchen Organic Baby Food Stage 1 Apples — seven (3.5-ounce pouches for $12.50) = 51 cents per ounce
Sprout Organic Stage 1 Roasted Apples — 12 (3.5-ounce pouches for $12.99) = 30.9 cents per ounce
Earth's Best 1st Foods Apples — 12 (2.5-ounce jars for $7.99) = 26.6 cents per ounce
Caring for baby can cost a bundle! Check out all our It Adds Up! coverage.