How Much Diapers Cost
Disposable Diapers Add Up! Unit Price of Popular Brands
Disposable diapers aren't easy on the budget! Newborns can soil up to 10 diapers a day, and though the number normally decreases as children grow, lots of parents still change their kiddos every two to three hours. On average, one diaper (newborn size) costs about 26 cents with green and conventional nappies at similar price points. Check out these figures based on newborn jumbo packs.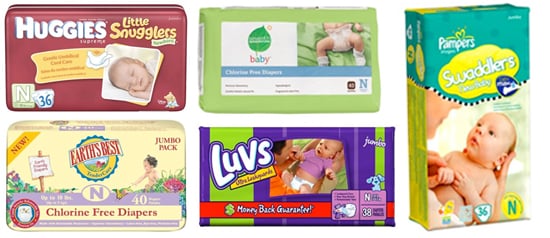 Pampers Swaddlers — 36 count ($10.99) = 30 cents per diaper
Huggies Supreme Little Snugglers — 36 count ($9.99) = 28 cents per diaper
Luvs — 38 count ($7.99) = 21 cents per diaper
Seventh Generation — 40 count ($10.99) = 27 cents per diaper
Earth's Best — 40 count ($11.99) = 29 cents per diaper
Caring for baby can cost a bundle! Check out all our It Adds Up! coverage.