How Often Should Breastfed Babies Eat?
Is This Normal? Breastfeeding Round the Clock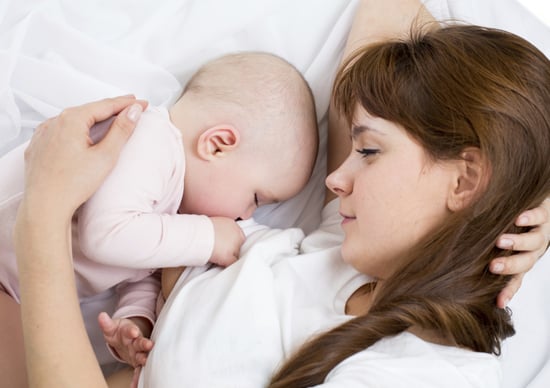 The fact that breastfeeding apps, watches, timers, and journals exist would lead a new mom to believe that tracking her newborn's feeding patterns was the trickiest thing to manage about breastfeeding. But what I found (and I know I'm not alone here!) with my first child was that it felt like he wanted to eat all the time! At first, it's overwhelming, but our bodies work this way for good reason. According to lactation consultant Kelly Bonyata, during the first year, babies should be nursing at least 10 to 12 times per day. Frequent feeding encourages milk production and reduces engorgement, setting you up for a successful overall experience. When you have a nonstop eater, the main concern for most moms (aside from, "Will this ever end?!") is whether or not your baby is getting enough sustenance. Most pediatricians will tell you, if your baby's gaining weight at a healthy rate, that's all you need to know. From 0 to 4 months, a breastfed newborn should gain an average of 5.5 to 8.5 ounces per week. From months 4 to 6, newborns gain 3.25 to 4.5 ounces per week, and from 6 to 12 months, baby should gain between 1.75 and 2.75 ounces per week. Don't drive yourself nuts trying to measure every last ounce, though. It's normal for breastfed babies to gain weight at a slower pace than formula-fed babies, and every child develops at their own rate. Other breastfeeding "surprises" that are are totally normal in the early stages include:
A different feeding pattern every day
Cluster feeding: this is when the baby literally wants to nurse for hours on end — usually in the evening. It can be indicative of a growth spurt.
Excessive fussiness during growth spurts. These are most common at seven to 10 days, two to three weeks, and four to six weeks.
Find answers to more of your biggest breastfeeding questions right here!