How to Organize Craft Supplies For Kids
Creative Ways to Organize Your Craft Closet
We're excited to bring you a new post from mother and actress Tori Spelling and her ediTORIal by Tori Spelling blog. This week, Tori shares tips for organizing a craft closet.
I'm not going to lie to you; as a busy mom-of-four, spring-cleaning often takes a backseat to changing diapers, driving to afterschool sports, and cooking dinner. But this year is going to be different! I'm making it my mission this spring to tackle one room at a time and whip the house into perfectly organized shape.
Related: Crafting with Katie Couric
My first order of business is the craft closet. Crafting can get messy, but that doesn't mean that your supplies can't be kept neat and tidy. I'm pretty good about keeping my craft supplies neat, but there's always room for improvement. So, I've been doing a little research and I found a few creative ways to keep organized. Here are a few of my favorite innovative ideas that I wanted to share with all my fellow craftistas…
Use an egg carton to store your sewing kit:

Use a pillbox for beads, pins and eyelets:

Keep reading for more organizational tips.
Use a colander to keep yarn from getting tangled: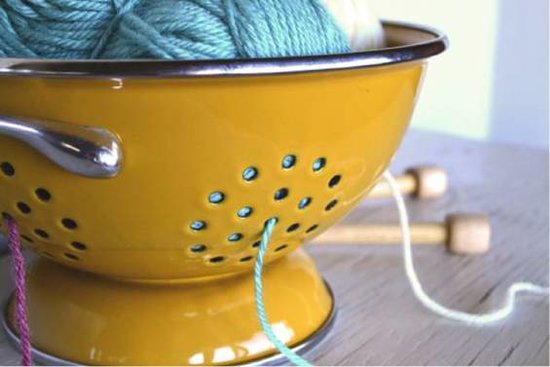 Use tension rods to hang spools of ribbon:

Use a spice rack to organize acrylic paints:

Use an ice tray to store odds and ends:

Use plastic milk jugs for colored pencils, markers, and paintbrushes:

Make a mason jar pin cushion:

Have any brilliant ideas of your own? How are your spring cleaning efforts going?
Let me know in the comments.
More great reads from ToriSpelling.com
5 recipes for your Mother's Day brunch
Calling all Mom Warriors
What's in my bag?
Finn's first tooth!