How to Organize Kitchen Drawers
Organize Your Life: 6 Ways to Tame Your Kitchen Drawers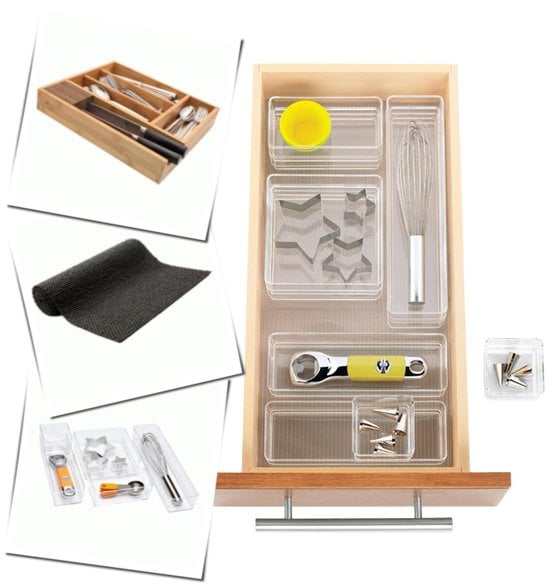 The New Year means it's time to start organizing the areas of your life you've neglected, including out-of-sight (but awfully cluttered) kitchen drawers.
Are you guilty of buying more than one measuring spoon set, just to avoid hopelessly digging around your disorganized drawers? Has your junk drawer reached capacity? Speed up your search time and make your kitchen drawers safer and neater with our quick tips. Better organization cuts down on cleanup time for the whole family — and you won't drive yourself crazy searching for the liquid measuring cup ever again.
Click here to check out our drawer-organizing tips.
Line it up: Rubber drawer liners keep items in place, so tools and dividers won't slide around the drawer when you open and close it. Line every drawer with Pro-Grip Shelf Liner ($15) before you begin your reorganization process.
Use drawer organizers: Purchasing a few storage dividers can instantly give structure to any drawer. The bamboo cutlery tray with knife dock ($40) has a spot for silverware and knives. These stackable acrylic drawer organizers ($3–$10) come in a variety of different shapes, so you can custom mix and match depending on the size of your drawers.
Sort it out: Once the supplies are purchased, separate and create piles for all of your tools, including serving utensils, metal spatulas, rubber spatulas, wooden spoons, scissors, thermometers, and can openers.
Separate serving utensils: Create a drawer for utensils, serving utensils, and knives. If your drawer is too small for a knife block, store your knives in plastic sheaths, so no one will accidentally nick a finger when rummaging through the drawer.
Designate a baking and/or cooking drawer: In another drawer, create separate dividers for tools used when baking and cooking, such as rubber spatulas and wooden spoons, whisks, and tongs. Create another divider for lesser-accessed items like meat thermometers, bottle openers, and ice cream scoops. Better yet, if you have the space, create separate drawers and dividers for baking tools vs. cooking tools.
Pile up the prep drawer: Use a larger middle drawer for storing measuring cups, liquid measuring cups, prep bowls, and Tupperware. Be sure to stack the items from largest to smallest to save space.
Stack pots and pans: Save the largest bottom drawers for pots, pans, and pot lids. Stacking them by shape and size will cut down on space used and will make it easier for you to find the right pot you are looking for.