How to Pick a High Chair
4 Tips For Choosing the Perfect High Chair For Your Family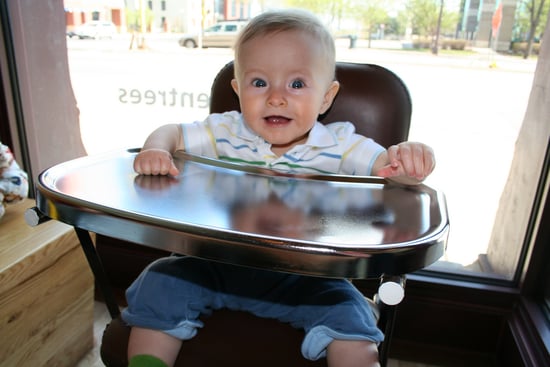 Your baby is ready to start eating solids, but first you have to set the stage. Choosing a high chair is important for safety reasons, as well as teaching your child to sit up comfortably so she can get the most enjoyment and nourishment out of her food. Here, our experienced community shares what to look for as you purchase a high chair.
1. What's Your Budget
As with most kid-gear purchases, consider your budget. There are basic models, luxury names with all the bells and whistles, and options in between. Cost-conscious moms typically recommend chairs that can grow with your child. Carolyn S., for instance, loves the chair her mom bought because she can take it apart and use it as a table and chair when her child grows. And Lauren J. recommends the Fisher-Price Rainforest Booster Seat because it lifts her son up to the right table height, can adjust as he gets bigger, and the activity tray keeps him occupied when she is preparing food or cleaning up. "The price is also a big plus — much cheaper than a high chair," she says. 
2. How Much Space Do You Have?
In addition to price, the space available for extra seating in your dining area can dictate the high chair you choose. Moms with limited space tend to prefer something that straps to the table or an existing chair. "Yes, the room thing was a huge issue for me, since we have a tiny kitchen that barely fits the table as it is," says Jacqui A., noting she chose a high chair that sits on top of a dining table chair. "It's the exact same size-wise as the high chairs with legs, except it takes up minimal space." 
Meagan S. chose a high chair that doesn't have a tray but attaches to a kitchen table because of her tiny apartment. "I like it because it's really small, and [my daughter] Lydia can sit at the table with the rest of us at dinner." 
Keep reading for more high chair advice.
3. How Will You Clean It?
You can expect that as your child experiments with eating, it'll be accompanied by messes. So consider how you plan to clean the high chair. Katy B. says she learned this lesson the hard way. After putting the first chair she purchased together, she had to take it back to the store and exchange it for one with more easily washable straps and could be taken apart to clean. 
Meanwhile, Melissa C. chose a chair that has a removable tray that is dishwasher safe, and vinyl padded seating that is "super easy to keep clean." And Jeanne C. chose a wooden restaurant-type high chair that she could easily wipe down. "I had the fold up one with tray . . . previously," she says, "but it was hard to clean and the cushions wore out from washing all the time," she explains. 
4. How Often Do You Plan to Eat Out?
Finally, the community suggests you consider where you and your child plan to eat. "If you are home bodies and never eat out, then a big [high chair] that is hard to move is fine. If you are out a lot, you would be better with a small one that goes on a dining chair or one that goes onto the table" that you can travel with, Allie C. explains.
Dorothy S. and Heather B. agree. Both moms chose a feeding chair that attaches to a regular chair because it works in their kitchens, and they also can take it with them when they are out and about. "It's much safer than many restaurant seats," Dorothy says. "I like it because I can throw it in car when going to get togethers and family gatherings," Heather says.