How to Recover After a Traumatic Childbirth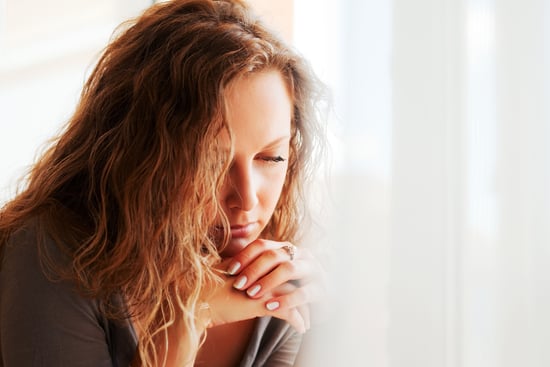 Any mother will tell you that giving birth can be a most extreme, animalistic, incredible, painful, and overwhelming experience — but what about when things go wrong?
Keep reading for one mom's advice.
The following information is for educational purposes only. For specific medical advice, diagnoses, and treatment, consult your doctor.
I don't want to share horror stories for the sake of it, or spread unnecessary fear — after all, we must all have an aunt, a cousin, or a distant friend who has given us WAY too much information that has left us with nightmares! But in all seriousness, how do we cope when things have gone wrong?
Birth complications can happen to even the most prepared of mums-to-be; I personally delivered my best friend's baby on her bedroom floor after just 24 minutes of labor! Mum and baby were both fine; the father who walked in from work mid-push, however, was a little more shocked.
The good news is that in cases of births with a complication — whether it is a breach, an emergency C-section, a distressed baby, or an assisted delivery — the vast majority turn out well. Sadly, however, there are some mothers who experience traumatic complications. Here is some advice if you have experienced a traumatic childbirth, medical negligence, complications or lasting distress post birth:
Remember It's Not Your Fault
If something happened that caused you or your baby to suffer during the birthing process, it is very common to feel guilt. The mothering instinct — the need to protect your child — can lead to feelings of guilt even when events are totally out of your control.
Heal at Your Own Pace 
Please don't feel like just because "Jane" got over an emergency C-section in four weeks, or "Wendy" had twins in the conference room and was back at the spreadsheets after lunch, that you have to do the same. It takes time to heal, and what is right for one family is not for another; your only responsibility is to your own family, not the Jones's.
Ask for Help 
Whether it be for physical or emotional support, you should ask for help. This is not a weakness. No new mum wants to feel inadequate, but asking for help is NOT an inadequacy, it is providing for yourself and your child by getting your needs met. Please speak to your healthcare provider about support in your area.
Monitor Your Postnatal Mental Health 
Any new mother will experience emotions (both positive and negative) like no other time! Hormones, tiredness, and overwhelming instincts will all make this a very psychologically demanding time. If, however, you experience extreme anxiety, insomnia (not due to baby!), hallucinations, feelings of wanting to harm yourself or others, or a feeling of low mood for more than two weeks, then please see your doctor as soon as possible. 
Consider Seeking Compensation
If you have experienced trauma as a result of medical negligence or a medical accident, then you may be entitled to compensation. It can be expensive dealing with the aftermath of trauma; it can be very costly to get the extra childcare, the trips to the doctors, and the physical or emotional support. Compensation can help you get the help and support you need to aid your recovery and to help you and your child adjust after a trauma. In the UK there are a number of companies like National Medical Negligence Helpline that can help you find a lawyer. In America there will, I am sure, be many more. If you seek compensation, please be sure to do it through a reputable company who can deal with the stress of it all for you.
Know that Bonding May Take Time 
For some mothers bonding comes very naturally, but for many who have experienced traumatic births, it can take time. If the process of giving birth has left you with physical or emotional pain, the memory of this can create a rift between you and your child. If this is the case, do not be afraid to discuss it with your health visitor. Health professionals will have seen it all before and are not be there to judge or criticize, but should be able to put your mind at ease and give you practical advice and support. Please know that for many parents overcoming a difficult birth and building a bond can take time. As long as your baby's needs are met this is not cause for concern; that love and bond will grow and develop in time.
For further information about what I do in the world of mental health, please see my profile. Please also feel free to add your own tips, stories and discussions below.
The views expressed in this article are those of the author and do not necessarily represent the views of, and should not be attributed to, POPSUGAR.