How to Use Chalkboard Paint
Chalk Talk: Tips and Tricks For Chalkboard Paint
Inspired by back-to-school shopping and all the chalkboards in kids rooms on Pinterest, we think it's time to bring this functional accent home and allow our little rebels to write on the walls.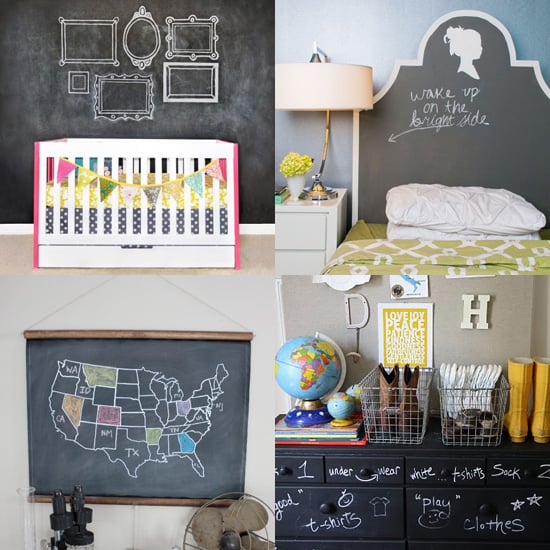 The options with this trend are endless: incorporate as little or as much as you want into your home or nursery. Our favorite part about this DIY is that it's something that both you and the kids will enjoy. Here are some useful tips and tricks to keep in mind before you get creative and chalk it up!
Choose a place: Before you get going, choose where and how much to incorporate this bold, black accent into your space. If you love the trend, go big and paint an entire gallery wall in your nursery or playroom. If you'd rather use an accent piece, paint the surface of a craft table, the back of a door, or even a dresser, so your child knows where everything goes!
Keep reading for more chalk talk!
Have the right supplies: This isn't any ordinary paint. Supplies will be important when it comes to the final product. Since it is a dark color, make sure to use a latex primer. Many people like to use a magnetic primer under chalkboard paint, so they can add magnets, too. Keep the paint reviews in mind and choose a primer fit for your needs. You will also need a smooth-finish roller and other basic supplies: sandpaper, Spackle, a drop cloth, paint tray, and a small brush for details.
Prep and paint: After you have gathered all the supplies, make sure your surface is smooth, to ensure that erasing and writing will be easy. After a coat of primer, load up on the chalkboard paint. About four coats (two hours in between coats) is suggested. Lastly, wait at least 72 hours (patience is key) before you and your artist get drawing!
Accessorize: Let the fun begin! If you painted a gallery wall, hang empty frames with Velcro or apply frame decals to create a revolving art gallery that changes over time. Worried about mess? Chalk markers and dustless chalk can help make it good, clean fun.