Hurricane Sandy Volunteering With Kids
How to Make Sense of Hurricane Sandy For Your Kids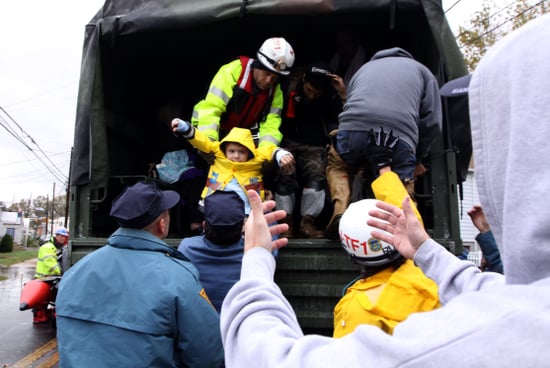 While the superstorm Sandy may have passed, its effects on the hardest-hit areas of New York and New Jersey won't be going away anytime soon. In the wake of such a massive calamity, it's hard enough for us to make sense of it all as adults, let alone try to explain what happened to our kids. If you're fortunate enough to be counting your blessings this week, get the whole family on board to spread a little love by volunteering or making a donation to those who are struggling. Here, some of our suggestions for how you can help to pick up the pieces:
If You're in the New York/New Jersey Area
Let It Be Known That You're Ready to Help: Mayor Bloomberg has asked anyone who wants to volunteer to email nycservice@cityhall.nyc.gov with your name, email address, and borough.
Give New Kids Clothes: Kids in Distressed Situations, Inc. (K.I.D.S.) is collecting new kids and baby clothes, toys, and other products.
Give Gently Used Baby Gear: Baby Buggy is accepting gently used (less than three years old) baby gear at its NYC headquarters: 306 W. 37th Street (between 8th and 9th Avenues, 8th Floor). Call 212-736-1777 first to schedule your delivery.
Keep reading to learn more ways to give back to the victims of Hurricane Sandy — both from NYC and from afar — and see our tips for talking to your kids about the storm.
Give to the Hungry: Volunteer through the New York City Coalition Against Hunger by calling 212-825-0028 ext. 211 or emailing NYCCAHvolunteer@gmail.com.
Lend Your Medical Credentials: The American Red Cross is seeking medical professionals to donate their time and experience to area storm shelters.
Give Blood: The New York Blood Center is in critical need. Visit its website to find a donation spot near you today.
If You're Elsewhere in the Country
Send a Gift Card: Families with young children have requested gift cards to Babies "R" Us and Target to help rebuild what's been lost of their kids' possessions. Send them to: Rock Center With Brian Williams, 30 Rockefeller Plaza, #412E, New York, NY 10112.
Make a Monetary Donation Directly to Staten Island: The Stephen Siller Tunnel to Towers Foundation is accepting donations to families in need via its website or by mail.
Text a Donation to the Red Cross: Text the word REDCROSS to 90999 to donate $10 to the American Red Cross Disaster Relief.
Text a Donation to the Salvation Army: Text the word STORM to 80888 to donate $10 to the Salvation Army.
Make a Donation to E's Piggy Bank: This adorable 4-year-old has made a viral video that's getting a lot of attention and raising a lot of money for victims of Hurricane Sandy. The proceeds will be distributed to the American Red Cross, Feeding America, and the Humane Society Disaster Relief Fund.
Donate Directly to Kids in Need: Visit Save the Children's website and donate in any denomination to help the hardest-hit kids and their families.
Resources For Making Sense of It All to Your Kids
Let The New York Times Help You: The Learning Network, the interactive teaching blog from The New York Times, offers some great tools for discussing the hurricane with your kids.
Leave It to Sesame Street:
Engage Them in Giving Back: Whether you're volunteering or donating in person, writing a check, or making an online donation, involve your kids. The silver lining of such a devastating tragedy? It's a great opportunity to teach your children the importance of giving back and supporting your community.