IdeaPaint Turns Walls Into Wipeboards
IdeaPaint Lets Kids Write on Their Walls and Wipe It Off!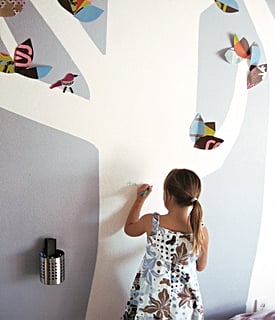 Go ahead, write on the walls! Is chalkboard paint becoming passé? Maybe. Turn the walls of your kiddo's room into a wipe board with this inventive paint that allows for doodling with dry erase markers. The scribble space can come in handy for solving homework problems, relaying messages, and unleashing creativity. And, you don't have to clean up piles of loose paper!
Available in nine neutral shades — white, light gray, off white, light beige, gray, light green — and a poppy orange color, the CR8 water based IdeaPaint covers 50 square feet of space for $175. The HOME variety (also water based) comes only in white and sells for $30 (for 6 square feet of coverage) and $60 (for 20 square feet of coverage).