Ikea Play Food
Ikea's Felt Food Makes For Furry Kiddie Kitchen Fun!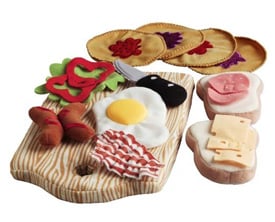 For the love of felt! Ikea offers minimalist design to the masses at an equally attractive price. And, kids will eat up the Swedish superstore's latest import – play food that coordinates with the retailer's popular Duktig play kitchen spaces. Not yet available online, the four fabric play sets have been spotted in stores throughout the country and children can't wait to get their wee hands on 'em! Felt food has become an inedible staple in play kitchens since moms have turned away from plastic varieties. We've rounded up some of the most life-like handmade felt creations. Take a look!
To see more felt designs, read more.