Interview with Bethenny Frankel
Interview With Bethenny Frankel: Housewife's Baby Talk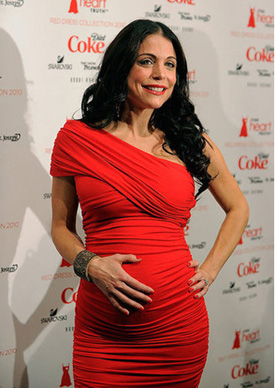 Catfights, cocktails and creme de la creme guest lists are de rigueur on Bravo's hit Real Housewives of New York, where the cast spends much of their time decorating their homes, attending social events, and gossiping behind each other's backs. So how will the standout star, Bethenny Frankel, known for her witty zingers and Skinny Girl margaritas handle motherhood? With a mellow attitude and some perspective.
The mama-to-be who's due in June is keeping busy promoting the current season of Housewives, filming her own new series, Bethenny's Getting Married about her wedding to the babe's daddy, Jason Hobby, and penning her third book, A Place of Yes. The reality star chatted with me via phone yesterday as she was being prepped for a photo shoot.
BabySugar: Tell us about the pregnancy – were you surprised?
Bethenny: I was totally, completely surprised. It was generally something I was open to, but I wasn't doing handstands and taking my temperature. I was just not being careful because I thought it would take a very long time because of my age. So yes, it was definitely like "Holy S**t".
BabySugar: How's the nursery coming along?
Bethenny: It isn't. We haven't done anything yet. We have to get to that in the next couple of weeks after we have the wedding. I like the catalog at Restoration Hardware, I like their style and the way they do it. Not so jungle-y. I think it will be much more conservative and nice. Not over the top with like clouds and hippopotamuses.
BabySugar: Should we expect to see a parenting book out of you like your costars Alex and Simon?
Bethenny: That will be years to come. It's so hard to be a parent to a thing that doesn't do anything yet.
To see Bethenny's take on parenting and if the baby will call any Housewives "Auntie," just read more.
BabySugar: Will you heed their (Simon and Alex) parenting advice?
Bethenny: Oh me, no? I don't believe in really taking advice for that stuff. I don't really know anybody that is doing the job perfectly. I think you should use your instincts and no two situations are the same. My life is completely different than theirs and my job is different than theirs and I think you kind of have to go with what's going on in your own house.
BabySugar: Will any of your costars serve as "aunties" to your baby?
Bethenny: [Pause.] Uh . . . no. Housewives has been a good experience and I've made some friends, people that I'm friendly with, but it's been a career move. My friend who said I have rotten eggs has been my friend for over 20 years and that's the situation with most of my friends. You'll see them all on my own show Bethenny's Getting Married, which I am shooting right now.
BabySugar: Can we expect a postpartum PETA shoot like the one you did last year?
Bethenny: I don't know if I need to be looking for reasons to be naked. It was a really nice offer, and I loved it, but I think that would be a little overkill.
BabySugar: Has pregnancy tamed you?
Bethenny: I think in some ways it's mellowed me a little bit. Like I was at an event with every single Housewife there last night, and I was sort of giggling at it and taking it a little more lightly. It's put things into perspective.
BabySugar: Will you be a free range mom or a helicopter one?
Bethenny: What? I don't even know what a placenta is. (After an explanation) Free range! For sure!