Interview With Bugaboo Designer About Bugaboo Donkey 2011-02-22 06:00:00
Bugaboo's Lead Designer Discusses What Men Want in a Stroller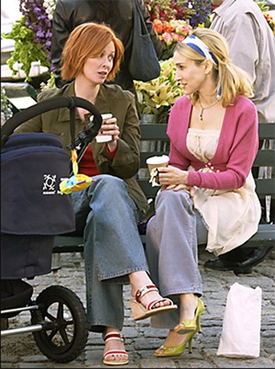 When the Bugaboo made its US debut as the stroller of choice for Sex and the City's Miranda and Brady, it caused nothing short of a pushchair revolution. The pram, which was Max Barenbrug's final design school project, aimed to appeal to both moms and dads, with a modern unisex feel that caught on fast.
Today, Bugaboo's design team is comprised of seven designers – six men and one woman. Leading the team is Aernout Dijkstra-Hellinga, the man behind the soon-to-release Donkey convertible stroller. While in Amsterdam, (Bugaboo flew me there to test out the Donkey — look for our review next week!), I sat down with the father of two to learn more about the design process.
LilSugar: Bugaboo was founded to create a dad-friendly stroller. What elements go into such a stroller?
Aernout Dijkstra-Hellinga: I think over the years, you've seen the whole stroller industry change. It's a little too much to say it's all because of Bugaboo. I think we set a tone of voice there. When Max graduated, the stroller industry was completely different. It was more about fluffy fabric and little teddy bears. (Max's design) was more outdoor and aesthetic and very minimalistic. Currently, there are so many strollers out there that have that look and that feel that we don't consider it (anymore). We don't take typical man aspects in the stroller. Women like it also now.
LS: What differs in the way moms and dads handle a stroller?
ADH: To generalize a little bit. Moms are much more worried about the safety and well-being of the child, whereas dads are more practical. I read a nice article about the role of a dad. He should take more risks with a child. It's good to have the balance as a child, so they can learn both things. What I do think that dads like about the Bugaboo is that dads can talk about it, like the way you talk about a car. Guys like to talk about specifications. "My stroller can do this, and this, and this, what can your stroller do?" Maybe a mom is more like, "My child sleeps so wonderfully in a Bugaboo, and it's such a smooth ride," to generalize.
Stay tuned for more of my interview with the Bugaboo Donkey's lead designer, and check in next week when we share our review of the new stroller!