Interview With Bully Director Lee Hirsch
Bully's Director Tells Us Why the Movie Should Be on Every Parent's Must-See List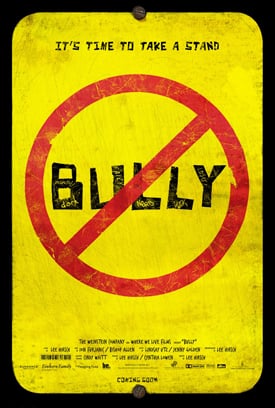 Bully just may be the most important movie of the year. The documentary weaves together the stories of five families dealing with the long-term effects of school bullying — two that have recently lost their children to suicide and three that are experiencing it day in and day out. While the film has received significant media attention for receiving an R rating from the Motion Picture Association of America's ratings board due to the inclusion of six curse words (it is now being distributed without a rating through many theater chains beginning today), it is the honest, heartfelt look at how 13 million kids are treated each year that should make it required viewing for every parent and school-aged child.
I spoke with the film's director, Lee Hirsch, about the bullying epidemic, the ratings controversy, and why even parents of kindergartners need to see Bully.
LilSugar: You've really started a national dialogue with this film — was that your goal?
Lee Hirsch: In a way, it was my goal. We were busy thinking, what could our movement look like, how could we do this, how do we engage, and how do we amplify? I don't think I ever imagined that we would have this level of support and that we would grow to be this high. It just feels like just a wonderful blessing to have so much support.
I knew that there were so many people that had this narrative, and I remember when I was first talking about this film, I would say, "God, everybody has a story when it comes to bullying." But I didn't really feel the way that I do now. Now I really feel like there are hundreds of thousands of people speaking out, [and] you start to see the impact of all these generations of people who've had this experience, who never really had a place to process them. It's really exciting.
LS: With the R rating, Bully's getting more attention than anyone probably ever expected. Why did you decide not to bleep out the six curse words and get the PG-13 rating? Was it worth fighting to keep them in there if it means that the film might not be seen by everybody who needs to see it?
LH: I think it's worth fighting, because what we are saying is that this is a movie about what happens. It's what really happens when it comes to bullying. In this bullying and situations of bullying, language is critical. Language matters — it's a weapon. It's such a ridiculous argument that the MPAA says that they will allow one F word, but what if you see the film four times? It makes no sense! On the flip side, we are saying we are talking about bullying, we are talking about violence, we are talking about people being numb to violence, and so the MPAA has put a rule on that, they have stamped movies that have sexified and glorified violence all the time with a PG-13 and PG ratings. So I think the stamp matters — it matters for the people that are bullied.
LS: You spent a year in three Iowa schools. How did you convince the boards of education to let you film in their schools?
LH: We had rigorous conversations with the schools; it took many conversations and days of flying out there. We presented them honestly what we were trying to do with this movie — what our hopes were. We wanted to show what it looks like from the perspective of being able to just really see what goes on at a school. They were very brave. The school district is taking a lot of heat from this film, and at the same time, most school districts would never agree to this — they wouldn't open their doors, wouldn't admit they have a problem.
Keep reading to see what surprised Lee the most during filming and what parents of younger children can do to stop the bullying epidemic.
LS: And what surprised you most during the filming?
LH: The bullying didn't surprise me, because I was bullied. I knew what it looked like, and I knew what it felt like. I knew with the gangs and with the group mentality of it all. I think what surprised me was the indifference — the struggle of the families that you meet in the film, but also the dozens of families that we interviewed and spoke to that aren't in the film. How so "up against the wall" so many people feel. It is just really profoundly surprising — and shocking — that the school system wouldn't attend the town hall meeting after one of the kids had committed suicide. [It] was shocking and emotionally devastating for that family.
But you know there was just a lot of intensity around this movie. You are dealing with people who are going through intense stuff, and nothing can emotionally prepare a filmmaker. I don't know how some journalists do it; they talk to folks who are grieving all of the time. But for me, meeting with the families that had lost their children was just so profoundly, emotionally difficult. And to navigate that with a camera — and to explain that on film and lay out that relationship — was very difficult, but ultimately created very important lifelong friends.
LS: At one point, you showed the footage to Alex's parents, so that they could see what was happening to him each day. Is it typical for parents to not be aware?
LH: I think that parents sometimes aren't aware more often than we think. Kids — they're embarrassed, especially if it's been happening over time. They haven't been able to make it stop themselves and they are afraid their parents are going to think they failed them. That's where I think there is a break down.
LS: How early does it start?
LH: The bullying starts early, you know, parents of kids 10 and under should see this film because their kid may already be a victim of bullying. I mean, for me, it was in middle school, and it's now elementary school. For Alex, it was in elementary school. For Tyler, it was in elementary school. Also we have had parents, more than a dozen, writing to us about their kids in kindergarten being treated as outcasts and left out and pushed, kicked, and shoved. It can start very young and think about what that's like on that kid by the time they get to 16. Or 12 or 11. I mean, tragically, during our filming, five families lost kids that year — the youngest was 9 years old. He committed suicide in the nurse's office at the school. His name was Montana Lance from North Texas.
LS: Are there any tips you have for parents to teach their children or to work with their children so that they don't become the bullies?
LH: That first year of teaching them empathy is so important and critical. They've got to talk to their kids. You have to teach them to be empathetic, encourage them to make good moral choices, let them recognize the power that they have to be upstanders — to intervene, to pave way to intervene, strategies for intervention. Kids are smart, with all of the brilliance that they apply to the cruelness of bullying — because they can be very brilliant bullying. They can be just as smart in coming up with strategies for how to stand with kids who are bullied, how to create groups and communities in a sense that they can stand together to fight.