Interview with Heidi Klum About Maternity Clothes
Exclusive! Why Heidi Klum Is Willing to Fight For Her Overalls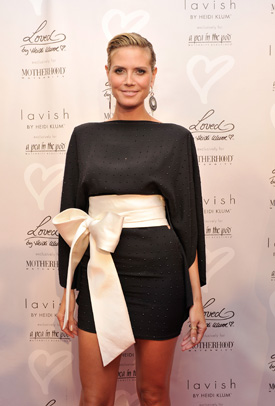 Many a couture garment made an appearance at Fashion's Night Out, but Heidi Klum talked overalls at the Destination Maternity event. The model and mom of four (Leni, 6, Henry, 4, Johan, 3, and Lou, 11 months) kicked off the store's Fall shopping season by unveiling her Lavish and Loved lines. I had the opportunity to chat with the Project Runway host and fashion designer as she walked on the pink carpet.
BabySugar: Was it any harder getting back into shape after giving birth to Lou than Leni?
Heidi Klum: I don't think it has anything to do with baby one up to baby four. You know, you get older and I think that has more to do with it getting harder. I'm 37 now and it's definitely harder at 37 than when I was 31.
BabySugar: Did you go for a certain look with your last pregnancy?
HK: I wore a lot of different things when I was pregnant. Whatever I could get my hands on to be honest. I tried to fit into my non-maternity clothes for the longest time until I realized that's just impossible. And then I thought, I'm going to be cool and go into all these different stores, but to be honest, it's just really hard to find cool things.
BabySugar: What aspects of your maternity wardrobe did you try to incorporate into the Lavish and Loved lines?
HK: When I started designing — sure some things just look better (in black) and it's just really slimming — it's easy to mix and match your things and it just always works with anything and everything. But then you get bored so I created some things you can put on when you are bored of your basic things. I brought in some cool prints. Basically the same things you wear when you're not pregnant that you can wear when you are pregnant.
To see what Heidi had to say about her favorite maternity wardrobe item, and balancing work and family, read more.
BabySugar: What was your favorite maternity item?
HK: I have to say I did love overalls. When I was pregnant with my first one, I had overalls, and that's why I had to fight (Pea in the Pod) on the overalls. And I just hope that everyone loves the overalls because I love them!
BabySugar: Between Project Runway, the maternity clothes, your line with New Balance and the just announced cosmetics line, how do you find time to fit in the kids?
HK: I do a lot at home. I have an office that is in my house. It's actually right in the corner where the garden is so I can see everything that goes on outside where the kids are playing . . . and I do a lot of stuff there. I do a lot from home and then we can run off, we can have lunch together, and then I can go on the computer for another hour. It works well.