Interview With Jessica Alba About Motherhood and Her Book
Jessica Alba Dishes About Her Mommy Must Have and Details of Her New Book!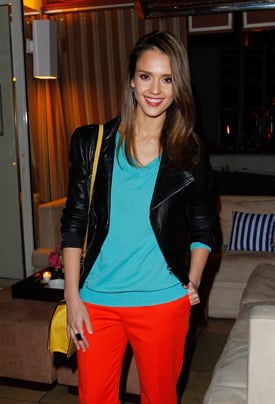 Just call her supermama. As if having a baby and launching The Honest Company weren't enough to do in one year, Jessica Alba recently announced plans to write her first book, too. The actress and mother of two — Honor, 3, and Haven, 7 months — hopes to share some of the tips and tricks she's learned about motherhood, as well as her methods for creating an eco-friendly and toxin-free environment in her home, with other modern moms who are busy trying to juggle it all.
I spoke with Jessica about her version of healthy living, why we always spot her wearing scarves, and the best trick her own mama taught her about motherhood.
On her forthcoming book about honest living:
"It's what I've learned along the way through trial and error — things that are actually attainable and applicable to me and to my life. I'm not growing organic vegetables at my house and picking them and feeding [them to] my family. I'm a working mom, so for me, it was easier to use disposable diapers. I do the best I can. I make my kids organic food, but I'm not the extreme. I think a lot of people probably fall more in the category where I fall — we want the best for our families, but sometimes we feel like it's too hard and it's too unattainable to go all the way and grow a garden and do that. So where's the happy medium? The book's going to be a very simple handbook on little things you can do that add up and make a big difference."
On sharing new mom tips:
"From room decor to making meals for the week to simple beauty recipes that my grandmother passed down to me made from things that are in your pantry . . . through trial and error, I've figured a few things out, and I'm sure other people have to. So [I'm] putting them together in a very simple, easy-to-read, colorful book. I also want it to be if you only have 10 minutes, you can walk away with something. It's like, what do you pack in your diaper bag that's easy — do you even have a diaper bag? Maybe you just carry a large purse. Maybe you use your purse instead of buying 50 different diaper bags knowing that your purse will probably go better with your outfits. So how do you pick a diaper bag that's neutral and will go with everything? And what do you really need in that diaper bag? In the beginning, I was stuffing my child's entire nursery into the diaper bag and breaking my neck and was like, 'Oh, wait, I forgot my wallet. What's going on?'"
On wearing scarves:
"I wear scarves, mostly because it's an accessory that can dress up an outfit, so you're not just wearing jeans, a t-shirt, and sneakers. But it's also because if my baby has an accident — and I'm holding the baby — I can cover that accident up! So I'm not walking around with a big puke stain or poo stain on my shirt! Knowing that I don't have time to go home and change, and really, I don't have the space, time, or capacity to pick out five different changes of outfits for my car — it's enough to remember my baby's change of clothes. I have funny little stories about how I learned that lesson [in the book]."
Keep reading for Jessica's thoughts on letting Honor play with the iPad, Jessica Simpson's baby shower, and the importance of the mom community.
On adjusting to having two kids:
"I think going from no kids to one kid was the biggest adjustment. Once my older one was out of diapers and was a little bit more self-sufficient, I found that having another one was easier than it would have been if I had two in diapers. I think the toughest part is probably just your time. You still want to spend time with both of them and you find you have less time for yourself. Once [Honor] is down for her nap then I have the baby and I get to spend time with [Haven], where I used to be cooking or doing emails or reading or talking to a girlfriend. So now it's about organizing my time and trying to be as efficient as possible."
On exposing the kids to technology:
"Haven, no, not at all. Honor, yeah, there are some apps we'll let her play with. She prefers books and playing dress-up and doing art and playing outside. When we're at a restaurant, we'll bring some books, but then we'll have some apps that she likes playing. So we just have to make sure the iPad is on airplane mode, because Christopher Gavigan [The Honest Company's cofounder and the author of Healthy Child Healthy World] is like, 'It's so bad for their brains!' if you keep the phones on, so you have to put them in airplane mode. She likes some spelling apps and some games and things."
On attending Jessica Simpson's baby shower:
"It was really fun. I love her — she's so sweet. I'm really excited for them."
You know you're a mother when ____.
"You know you're a mother when you don't sleep in anymore!"
Why didn't anybody tell me ______ about motherhood?
"Why didn't anybody tell me how important it was for me to have a community of other moms as friends and confidants. Really, I made a lot of really close friends that are so dear to me. We all come from completely different backgrounds. We're so diverse from what we do for a living to where we grew up and all of that. We have such an amazing bond, but I had no idea that it would be so important for my sanity, really. The girls' nights out are so important to vent and ask questions. We all are going through it together, so it's nice to be able to call someone at two in the morning when your baby has a high fever and say, 'What did you do?' The mom community has been key to me as a parent."
What's the best trick your mama taught you?
"My mom taught me to always put the new diaper underneath the bum as I'm changing the old one, so the new one is already halfway there and ready to go! It makes it very, very quick."
Helicopter mom or free-range kids?
"I'm more of a free-range."