Interview With Julianna Margulies About Motherhood, Reading
Julianna Margulies Talks Working-Mom Guilt, Valentine's Day, and the Value of Reading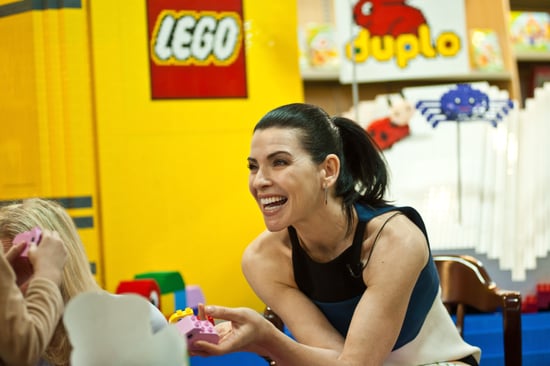 Julianna Margulies knows a thing or two about guilt. As the star of the hit series The Good Wife, she plays the repressed, estranged wife of a disgraced politician who is now learning the way around working motherhood. At home, she plays the real-life role of a working mom who rushes home just in time to read her son, Kieran, 5, a book before bed. As she says, "You feel stretched, and you always feel like you can't waste a minute." That's why the reading is so important to her.
I sat down with the Golden Globe nominee and red-carpet stunner at the recent LEGO DUPLO Read! Build! Play! event in NYC, where Julianna led a story time and play session for local kids to stress the importance of early child literacy. We discussed how she's woven reading into her nightly routine with Kieran since before he was born, the stress of being a working mother, and that moment when she really felt like a mother.
PopSugar: Alicia Florrick is obviously the ultimate working mother, and you are a working mom yourself. Do you bring any of your own stories or issues or working-mom issues into the story line?
Julianna Margulies: The kids on the show are much older than mine. Alicia had them very young and her kids are on their way out of the house. I mean I'm just getting my kid into kindergarten. But what I would say is similar is that you feel stretched, and you always feel like you can't waste a minute. There's no room for error, and so when bumps in the road happen, you have to just take a breath and say OK, this is where it's at right now, and I can't do anything about it. If my kid is up all night because he's sick, I still have to show up at work the next day, and that's no one's fault. I just am a wreck when I get to work, and that's something I have to deal with all the time. That's OK. You wouldn't want either the child or the job to go away so you just keep marching forward. And every now and then, you fall asleep standing up or have a horrific moment, hopefully alone in your bathroom, and sob your eyes out and say "I can't do it all!"
PS: I had one of those last night, so I understand.
JM: Yeah, every working mother feels the pain of not putting enough into your work and not putting enough into your kid. That's how it is.
PS: Do you and Kieran have any bedtime reading rituals?
JM: Since he was in utero, I've been reading and my husband has been reading to that little boy. And, you know, if I'm lucky enough, this past week, even though we've been working long hours, for some reason, I've gotten home every night at 7:45, and he's usually asleep by 8. But our ritual no matter what, and no matter how tired he is, even last night, I was reading to him, and he fell asleep on my shoulder, and I just kept reading because I always feel like those words somehow will get in there. I feel like if you can spend an hour a day with your kid, if you can't have all day with your kid, but you could have one hour of quality time, it should be spent reading and interacting with them verbally because it gives them such confidence. And I've noticed at 5 — he just turned 5 and we're not pushing reading on him — but he's reading because that's all we've ever been doing.
Keep reading to see what Julianna had to say about kids and Valentine's Day and the best tip her mama taught her about parenting.
PS: That's amazing.
JM: I think reading is optimal, and electronics should take a backseat to everything especially because they're going to have enough of that as older kids and adults.
PS: Valentine's Day is coming up and we always debate if you should bring the kids into Valentine's Day, or is it mom and dad's night alone?
JM: My husband and I are anti-Valentine's Day people. It's not in any way to say that love is not in the air, but I only make it about my child because they celebrate it in school. So I always give him a chocolate heart, and I make him a Valentine's Day card. We talk about love and all of that. My husband and I were fortunate enough to meet five days after Valentine's Day. So we celebrate on a night where we feel like it's our own special night, and not everyone else's. And I always joke, what, I'm not getting my chocolates on Valentine's Day this year honey? But on Valentine's Day, it's for Kieran.
PS: You know you're a mother when ______.
JM: You know when you're a mother when you stop coming first.
PS: The best trick about babies, kids, parenting that my girlfriends taught me was ______?
JM: Before you react, walk out of the room and take a breath.
PS: I wish somebody would have told me ______ about motherhood.
JM: I wish somebody would have warned me how tired I would be.
PS: Helicopter mom or free-range kids?
JM: Oh, I'm a free range for sure.