Interview With Molly Shannon
Molly Shannon Talks About Breastfeeding a "Little Piranha"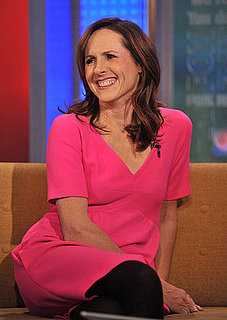 She cracked us up as Mary Katherine Gallagher and other memorable characters on Saturday Night Live, but now comedian Molly Shannon is a working mother trying to juggle it all. And, she recently told me her daily secret to staying energized — a multivitamin and a 20-minute run. The combination helps her power through eight Broadway performances a week in Promises, Promises and raise her children, Stella, 7, and Nolan, 5, with husband Fritz Chestnut. The funny lady took a few moments to share her candid thoughts on motherhood.
LilSugar: You know you're a mother when ____?
Molly Shannon: You get thrown up on and don't care at all!
LS: Why didn't anybody tell me _____ about motherhood?
MS: That nursing kills in the beginning! It felt like a little piranha until it settled down...when your milk comes in.
LS: What's the best trick your parent taught you?
MS: My dad was silly and fun. He'd say do you want to go to the park and then out to have chili, and you can cut school. He would make all my friends laugh. And, they'd say, "Do it again Mr. Shannon."