Interview with Paul Lindley Founder of Ella's Kitchen Baby Food
The Man Behind the Baby Food: Paul Lindley of Ella's Kitchen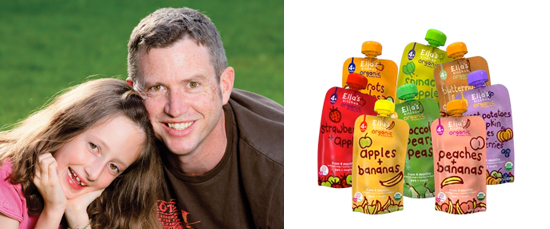 Did you ever picture a British man making your baby's food? Paul Lindley's pouches of organic purees have become a staple in many families' cupboards. The founder of Ella's Kitchen and father of two recently took the time to answer a few of my questions.
LilSugar: Why did you decide to create Ella's Kitchen?
Paul Lindley: I created Ella's Kitchen because I thought that my daughter, Ella, and her generation, should have the chance to eat healthy, handy, and fun foods so families could discover that good food can be cool. I thought that if we could create foods that appealed to all babies and young children's senses, we'd be able to help find a way to encourage kids to develop healthier habits, early in life, leading to a happier future.
LS: What about pouch packaging made it appealing?
PL: The pouch itself is tactile and playable, which babies and toddlers love, as they quickly get at ease with the idea of eating from it. The straw or spout is perfect for little ones to squeeze and slurp themselves, giving them a little control in the feeding routine and empowering them, while being really easy for mom to squeeze onto a spoon to feed if that is easier. The resealable lid ensures that moms don't have to worry about finishing a whole pouch every time because the food will save, safely for later. The whole thing is so convenient for when moms are out and about that they find it so convenient to pop into their diaper bag or purse. The way we have branded the pouches also really engages babies and toddlers, the bright colors appeal to the youngest ones, and the simple language and images intrigue older toddlers. All in all, the pouch is a really great modern way to engage young children whilst providing real benefits to moms!
To see when the full line of Ella's Kitchen products will be available in the US and Lindley's take on fatherhood, read more.
LS: The children's food market is expanding, what is next for your brand?
PL: We have seen our business grow by over 100% in each of the last 3 years — in spite of really tough economic times for many families and a global recession. Organic food is steadily growing and our brand is a market leader in the UK and a new, exciting and different option to moms in the US. In the UK, we have nearly 50 different foods and we are looking forward to bring them to American families over the next year or two. Our business is all about finding ways we can help babies and young children enjoy better food in a fun way, while understanding what challenges and needs moms have in the modern world. Therefore we are always looking to inspire and innovate to help families, and listen to ideas every day moms have that would help their routines and daily lives. We'll always think differently and are prepared to think the impossible ('cause it just may not be so!).
LS: Some of your items are not yet available in the US, when can we expect them?
PL: We are working really hard to offer the biggest range, at the best value to moms all across the US. We do not export from the UK, but choose to make all of our US foods in North America with local ingredients. We plan to bring much more of our UK range to the US when we know that we can make it under the highest standards, the way a US mom wants, for a price she will pay, and being accessible across the nation. And we think that doing this the right way may take a year or two. So it's coming!
LS: Fill in the blank. Why didn't anybody tell me ______ about fatherhood.
PL: Why didn't anybody tell me that kids laugh 20 times a day more than adults, and hearing your child's infectious, mischievous, cheeky little laugh at the end of a hard day, melts your stress away and is the best thing about fatherhood.
LS: Fill in the blank. You know you're a father when _______.
PL: You know you're a father when changing a diaper no longer grosses you out.