Introducing Bottle to Baby
When Did You Introduce a Bottle to Baby?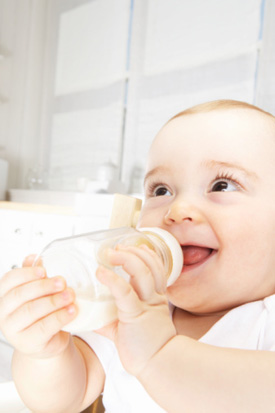 Don't give the baby a bottle, it will cause nipple confusion! Prior to having a baby, the concept of "nipple confusion" is one that most mamas think is reserved for regulars at Hooters. But once a lil one arrives, friends and family will have plenty of advice about the best time to introduce bottles and pacifiers to a breastfed baby.
Most lactation consultants suggest waiting until a baby is a month old before offering her a bottle, giving both mom and her wee one enough time to become comfortable nursing. Some moms follow this advice, while others throw caution to the wind. One friend who recently gave birth told me that she offered both human and man-made nipples from the day her tot was born and never had an issue. Another waited for three months, at which point her son outright refused the bottle if his mother were in the room.
When did you introduce your baby to the bottle?