Jake and the Neverland Pirates Earth Day Episode
Modern Family's Ariel Winter Offers Up Green Earth Day Tips For Kids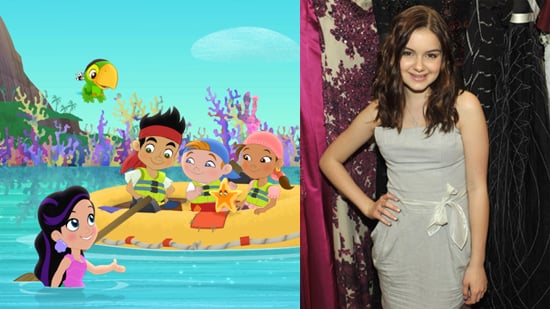 Ahoy mate! Fans of Disney Junior's new Jake and the Neverland Pirates know that Captain Hook and Smitty are often up to no good, and this week is no different. On Earth Day (April 22), the animated series is offering up a show designed to teach tots about our endangered coral reefs, featuring a frequent guest voice on the show, Ariel Winter (better known as Alex Dunphy on our favorite parenting show – Modern Family).
I spoke with the teen star about her involvement in the episode and she offered up some tips for introducing kids to environmental awareness. See what she had to say!
LilSugar: Tell me a little bit about Marina and what is happening to her character on the Earth Day episode of Jake and the Neverland Pirates.
Ariel Winter: I voice Marina the Mermaid. She's the cheerful and bright fishtailed mermaid in Mermaid Lagoon. Our Earth Day episode is titled "Save the Coral Cove" and it's where Jake and the crew save Marina the Mermaid and Sandy the Starfish's underwater habitat when it's threatened by Captain Hook – he's searching for sunken treasure in the Coral Cove.
LS: Was it your idea to involve your character in an Earth Day story, or Disney's?
AW: It was all mutual. We all said we need an Earth Day episode so kids can learn they need to be green and help the environment. I think it's really cool that I get to be part of the Jake and the Neverland Pirates Earth Day episode.
LS: What's it like voicing a mermaid? I take it you didn't do much research in the water!
AW: It's funny. I'm Ariel and everyone always thinks I'm named after the mermaid. It's pretty cool to voice a mermaid because when you see her on the screen she's so adorable and she's got like the big blue eyes and the big fishy-tail. It's just so cool because she's just got an amazing aura and she just wants to help and she's always there for Jake and the crew. I didn't do a lot of underwater training through!
Keep reading to see Ariel's Earth Day tips for kids, and how the Modern Family set keeps green.
LS: What steps do you take to green your life?
AW: I think it's really important to be green. And I go by the three "R's" of science: reduce, reuse, and recycle. Sometimes for fun, my friends and I will go over to the park and pick up plastic containers and bottles and we'll go over to the recycling station and we'll recycle them.
I have three nieces and I'm always telling them to pick up trash, etc. What I think is cute is that you can choose toys that won't break easily so you're not always buying more stuff or creating trash. You can buy rechargeable batteries and you can share books with a friend. It's also a great way to hang out with a friend. You can also read together. So there's a ton of things you can do to prevent global warming. You can turn off the lights when you're not in a room. You can plant a tree. I've actually planted two trees and I think it's a really fun pastime and you're also helping the earth.
LS: Is the Modern Family set green?
AW: Modern Family definitely tries to be green they're always saving paper by giving us DropBox apps on our iPads. We have DropBox apps where we read all of our sides so we don't waste as much paper. And our production office is green, they have recycling bins. So we're definitely green.
Source: Disney