Jake and the Neverland Pirates' Sharky and Bones
Pirate Rock! Disney's Sharky and Bones Open Up About Pirate Culture, Jake, and Peter Pan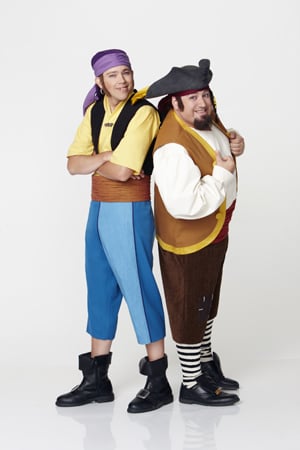 Can you talk like a pirate? If your lil one is between 2 and 5 years old, chances are he'll know exactly what we're talking about!
Since its launch last February, Disney's Jake and the Neverland Pirates has become the top-ranking series among kids in that age group. The animated show — about a new crew of pirates who work together to outwit Captain Hook and Smee around Pirate Island — is about to embark on its second season with a prime-time special Jake and the Never Land Pirates: Peter Pan Returns (airing Feb. 13), where the little boy who won't grow up enlists the minipirates to help him find his lost shadow. As with the daily show, the special will feature original pirate rock songs written and sung by Sharky and Bones of The Never Land Pirate Band. I spoke with Loren Hoskins and Kevin Hendrickson, the men behind Sharky and Bones and the stars of the live-action music videos featured at the end of each episode, about the popularity of pirate culture and what it can teach tots today.
LilSugar: Obviously you two are well versed in little kids' obsessions with pirates. How did it start for you two?
Kevin Hendrickson (Bones): It started before our kids. Loren and I met maybe 12 years ago, and we both just had a love of pirates and the old Disney records we grew up listening to. We decided to make a pirate album for kids, even though we didn't have kids.
Loren Hoskins (Sharky): We were pirates before pirate was cool. We had an affinity for pirate and pirate culture and the old Disneyland rides — you know the old Pirates of the Caribbean attraction — and we combined all those into a rock album for kids of all ages. We say "for buccaneers of all ages" because we had a lot of fans that were not kids and a lot of fans that were kids and then families that were fans. We just decided to not be a children's band, but a band for all buccaneers!
LilSugar: It's been almost 60 years since Disney released Peter Pan, and unlike other Disney flicks, it hasn't received a rerelease or a 3D upgrade. Why do you think the pirate obsession remains so strong today?
Loren Hoskins (Sharky): I have always maintained that what pirates represent for play is all the best things about play. That's imagination, adventure, being bold-hearted, silly voices, and fun dress-up costumes. You put all that together and you get classic kid play. It's like pirates and dinosaurs. Dinosaurs were huge for a while, and I think for the same reason – you can just go "roaar," and play all these great games, and they were bold and adventurous and from exotic locations. Pirates are the same thing. They're one of those classic play building blocks
Keep reading for more of our talk about pirate rock and the show's educational value.
LilSugar: Parents like to find an educational reason to show their kids a TV show. What lessons can pirates teach?
Loren: Teamwork is a huge part. Working together, there's great guises for those in pirate lore — like being part of a crew, being a good matey, and helping out your fellow shipmates.
Kevin: There's a lot of really basic problem solving, which I think is really great. Problem solving is really at the root of all things educational. One of my favorite episodes is when Cubby needs to be heard a long distance so he rolls up his map and shouts through it. That happens a lot — solve basic problems using things they find on the island.
Loren: One of the other themes I love about pirate music is that the music is fun and exciting enough that the kids are sharing it with their parents. That's my own personal mission: to make music that the whole family can enjoy together and is not like, "oh, that's my little brother's record."
LilSugar: What can we expect for the second season of Jake?
Loren: More! Bigger and better! Lots more music — the new season-two end-credit videos — we really have gone all out with huge sets, brighter and more colorful costumes, animation integrated into the songs from the episodes, [and] some custom animation where Jake and the gang are singing along with the songs. The music itself, too, is a lot of genres: the good old pirate-rock style, calypso, and rockabilly and a lot of fun other genres, too.
Source: Disney Junior