Jamie Oliver Sacrificed Time With His Family to Start The Food Revolution
Jamie Oliver Left His Own Children to Save Others, Would You?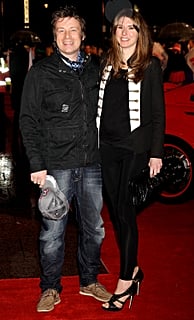 It's a parent's responsibility to safeguard their own children, but some moms and dads extend that protective instinct to other kids. British chef, Jamie Oliver left his family behind when he hopped the pond to start the Food Revolution in America. His effort to prevent childhood obesity and improve familial health has garnered enormous support, but it wasn't without sacrifice. In the final episode of the show, Jamie bid Huntington good-bye. He said:

It is very hard for me to leave Huntington, but I've got a wife and three beautiful kids — you know wondering — where the hell their dad is and their husband is. So you know this is time now for me to say thank you, I love you and this is your thing now Huntington. Treasure what we created together and don't let the fire go out.
Many parents leave home to fight for causes that they believe in. From members of the armed forces who protect our nation to goodwill ambassadors like Angelina Jolie and Salma Hayek who lend their celebrity to causes they believe in. Would you take time away from your children to do the same?