Japanese Yotaro Robot Baby Simulator
Yotaro Baby Simulator: Ga Ga or Gag?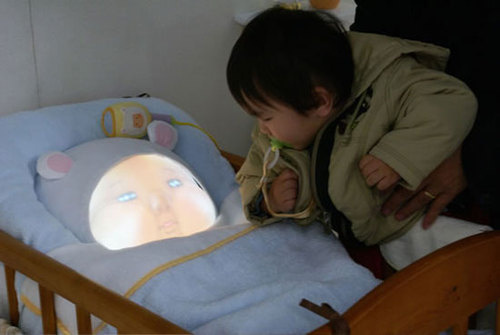 Desperate for a baby but don't like to change diapers? Love anime art and wish you could cuddle with it? Or maybe mommy has another baby on the way and wants to introduce her wee one to the concept of being a big brother. If you fit into any of these categories, you may find the Yotaro Baby Simulator intriguing. Heck, anyone may find the gadget intriguing.
The bear hooded "baby" lays in his crib, cries real tears, smiles, laughs, and moves its wired "limbs" that are hidden under a blanket. Onlookers are amazed at the Japanese invention and love to shake the rattle to evoke emotions, press its face to watch it change. What is the purpose of this creation? The award winning invention could be seen as an elaborate toy, a device to fill a parenting void or a learning tool for siblings-to-be. Check out the video and tell mommy, are you ga ga for the Yotaro baby or does it make you wanna gag?