Jenna Fischer Talks About Postpartum Body and Breastfeeding
Did Breastfeeding Really Help You Lose the Weight?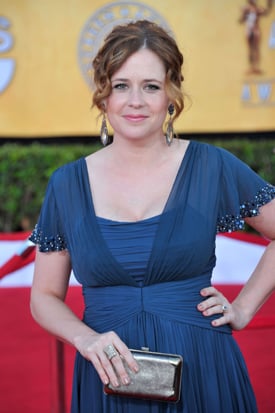 Breastfeeding makes the pregnancy pounds melt off. That statement, and other's like it, are reason enough for many mamas to put their babies to their breasts. Celebs such as Naomi Watts and Angelina Jolie have credited their baby's feeding schedules with their own rapid weight loss, so many of us bought the claim hook, line, and sinker — including Jenna Fischer.
While walking the red carpet at the Screen Actors Guild Awards, Jenna Fischer talked about her struggle to lose the baby weight, saying:
Let me please stand in solidarity with all of the women who are not a size 2 six weeks after leaving the hospital. I thought, you read all of the stuff in magazines like, "Oh, I breastfed my baby and I am so skinny now." I am breastfeeding my baby and I am not getting any skinnier! I think I'm just going to be a little bit bigger for a little bit longer, and that's fine with me.
Jenna, whose son Weston Lee is four months old, joins Salma Hayek — who told Oprah that nursing did nothing to help her lose the weight — and countless others, including myself, who actually found the opposite to be true.