Jeremy Scott Interview About Cybex Strollers
Jeremy Scott Speaks Up About Sacrificing Style For Motherhood and Kim Kardashian's Pregnancy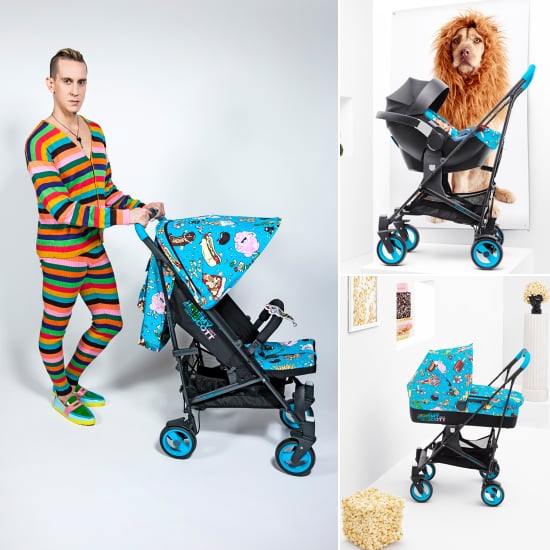 Just because you've become a mother doesn't mean you have to become serious and give up your style. That's the motivation behind Jeremy Scott's unlikely collaboration with Cybex, the infant and baby gear company, that was announced earlier this week. The designer best known for placing Bart Simpson-patterned clothes on his runway models and pink teddy bears on Adidas sneakers has created a fun, playful collection filled with animated snack foods ready to duke it out.
Hours before introducing his new Food Fight design, two editors and I were invited to sit down with Jeremy at London's Shoreditch Studios to discuss his inspiration, the moms he designs for, and what he thinks of the criticism of his friend Kanye West's pregnant girlfriend.
PopSugar: You just designed a Smart car and now a stroller. Do you have a thing for wheels?
Jeremy Scott: I would think the connection is that I love the idea of branching out into all kinds of design. For instance, I am the first designer ever to design a car now. Everything else has been an interior fabric . . . to have my designs go into a larger kind of spectrum in that sense. That's one of the reasons I agreed to do the collaboration with Adidas — to open that further. But then to do cars and strollers and next things, it's very fulfilling. I love the idea of my work touching people's lives in different ways. So much of high fashion can be so insular. As much as I love it, it, just by nature, is so insular. I like how these things can be parts of people's lives in different ways.
PS: You actually changed the exterior of the Smart car. Is there anything you'd change if you could create your dream stroller?
JS: If it was all neon and lighting up! There is a lot of safety baby issues, so I had to think about what would make the most impactful punch while not causing any trouble. That's why I decided to go with print more than anything. I just thought, well, it could just speak volumes, and keep babies safe, which is the most important after all.
Keep reading to see what Jeremy says about who he designs for and his thoughts on Kim Kardashian's pregnancy.
PS: Did you have a certain parent in mind when designing the stroller?
JS: With the Adidas line I've been doing more baby shoes and they'll sell out in a few hours. So it's like, who are these young, cool parents? There's such a new generation of parents that want fun things for their babies and want everything that they never had and more, or have matching outfits with them. There's this whole other category of like the "mini me babies." So I started delving into it through that. When this project came along, I was already in the mindset about doing something that breaks what goes on out there.
People [think] all baby strollers are just black, or there's only boy or only girl things, to just demolish that. Here it is, it's really neither boy nor girl. As not shocking as that sounds, it's shocking in baby world. Gender unspecific?! What are you trying to say?! I'm playing with different new parameters in a way and have fun with that.
PS: Why Cybex? What drew you to them?
JS: They just had such a great attitude. The people I work with have to fully want to embrace my world, because it's 100 percent or nothing. I can tell by what people are asking, how they want to work with me, if they are going to go all the way. I really can't be questioned . . . you have to just trust me.
It's not a process of "that's not going to work," "this isn't going to work." I don't want to be controlled, so I need to be working with partners that know I'm just going to dive into it. It might not appear the way you thought it should, but it's going to be the purest form. It's knowing that they have that, and they're going to support me fully on it and go there and go the distance.
PS: How did you choose the food items included in the pattern?
JS: It's the gamut of the naughty foods. Everything seems naughty. Then there are the hot dogs. Drive-ins. I always loved Grease, that scene always struck me.
PS: The characters are adorable. Depending on how this does, do you see the characters going into any other nursery decor?
JS: I want to have a toy collection — make them all into toys. I wanted them all to be able to squeak and do all those things.
PS: Do you envision doing another collection in another pattern?
JS: I love the idea of having new generations of it. Different chapters. What I see with people who have gone so crazy with the things I've done with Adidas. That's it. You don't give up your taste, and why should you? Kim Kardashian . . . she's dressing the way she wants to dress, leave her alone. It doesn't matter. She's doing no harm to no one. She's like, this is what makes me feel good. Why should she have to wear a teepee? Let her be. "She's wearing the skirt so tight, she's hurting the baby." The baby is fine; leave her alone. You don't give up your taste, and why should you?
Maybe that's a bigger social thing because she's a perfect example of that. What we think a mother should be. What she's allowed. Having a baby doesn't mean you have to give up all of this and all of that. That's a very old idea and an old stereotype.