Jessica Alba Launches Eco-Friendly Baby Company
Jessica Alba Launches The Honest Company Eco-Friendly Baby Care Products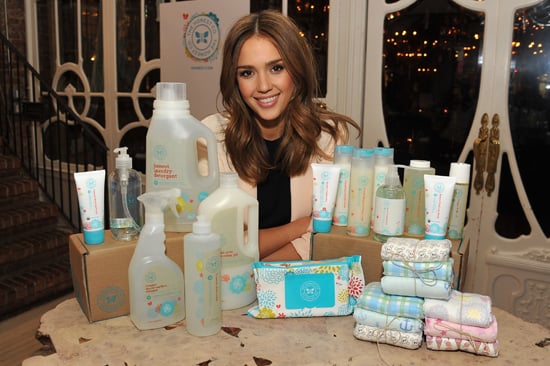 Jessica Alba is hoping to move off the red carpet and into your home. The actress and mother of two — Honor, 3, and Haven, 5 months — may be known best for showing off her impeccable figure in Fantastic Four and Little Fockers, but she's equally passionate about keeping toxins out of schools, homes, and work spaces.
This week, after stunning on the Golden Globes red carpet, Jessica launched The Honest Company, a subscription-based, eco-friendly, and toxic-free baby-products and household-items company. Working with Christopher Gavigan, the former CEO of Healthy Child, Healthy World and husband of Grey's Anatomy's Jessica Capshaw, the company's products include designer biodegradable diapers, all-natural wipes, shampoo, baby lotion, laundry detergent, sunscreen, and more. Based on her own experiences trying to find eco-friendly, child-safe, affordable products, Jessica is introducing the line through monthly subscriptions — they're currently offering a five-pack cleaning products package ($36) and a month's supply diaper bundle ($80), which will all be delivered directly to babies' nurseries.
What do you think? Could Jessica Alba's eco-friendly baby company take off?