Jessica Alba Talks About Working at Honest Company
Jessica Alba on Being a Businesswoman and Mom: "Moms Are Sexy, Moms Are Awesome, Moms Are Intelligent"
Just call Jessica Alba Superwoman. No, she's not starring in a new flick about a superhero — although she is reprising her role as Nancy in the sequel to Sin City — but she's playing one in real life. The mother, wife, sister, and daughter is juggling her film career and a start-up business that's growing gangbusters. Though many wrote her off as just the pretty face advertising for the company, her hands-on involvement has earned her accolades like Self magazine's Women Doing Good Award and a spot on Fortune's 10 most powerful women entrepreneurs list. When we met with Jessica at the Honest Company headquarters to discuss the latest additions to the line and the company's sale on Gilt, she opened up about working for a start-up company and how it feels to be known as a businesswoman, as well as an actress. Here are some outtakes from the conversation.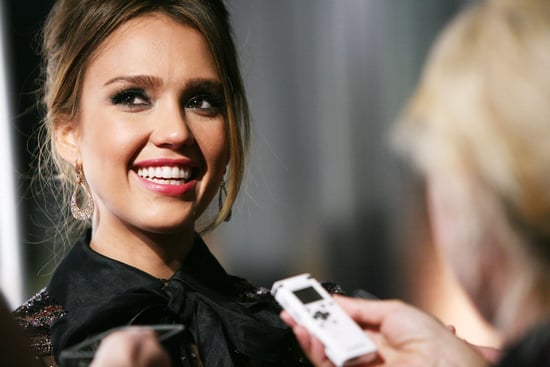 On being involved in Honest's day-to-day operations even when she's on set: "The good thing about doing a movie is it's really a finite period of time. So I did an independent a couple of months ago and it was just a week in Atlanta, and for Sin City I think I'll probably work, all together, three weeks. It can be two days in one month in October, and it can be four days in a row in November, and another four days in December. It's really spread out, and it's not like I'm gone for six months traveling the world or something."
On working at a start-up: "We all have to wear many hats. We don't have a CMO here, so Christopher and I are kind of like the CMOs. We still have so many positions that we have to fill. It's never like, 'Oh, this is a 9 to 5 and I get to go home.' It never ends. [I] go home, I do bath time and everything with the kids, dinner, and then I'm back on the computer and back at work. It's just the way it is when you're part of a start-up. It's awesome that I get to spend my time here, because I feel really proud of what we're doing."
On spreading the word about Honest: "I mean, I don't really have to preach it. I do send people that I work with little care packages."
On being considered a businesswoman: "I'm a mom. I have to say, I feel like a mom and everything else I don't really pay attention to, but I'm just really proud of . . . where I get to spend my time and what I'm doing with my time."
Keep reading to see what Jessica says about balancing work and home, and her kids' favorite products.
On the natural feeling of being a mother: "It was a surprise, but . . . I felt like I finally came into my own as a person. Everything fell into place for me, sort of spiritually I guess."
On the lesson she wishes someone had told her: "There's no such thing as perfect and you can't possibly do everything all the time. You have to compromise and that's OK. That's actually perfect. I always had this idea of perfection and wanting to be everything to everyone all the time, and certainly wanting to be the best mom, the best wife, the best daughter, the best sister, the best friend, the best at my acting, the job. You cannot be pulled in all of those different directions. You have to compromise and it's OK."
On putting family first: It's OK if family comes first, and you don't need to apologize for it. I felt like in the beginning people are so, 'Oh, you're a mom now and so you're not going . . . your career isn't this.' And all of a sudden you have to feel bad about it. But moms are sexy, moms are awesome, moms are intelligent; you're allowed to be all of that and still be a mom."
On Honor's love of pink: "Such the girlie girl. Yeah, [they] fight already. And [Haven's] going to get bigger and when she has that strength, she's going to remember that Honor is sort of like bigger than her to begin with. Honor goes and does this hug thing where she is really strangling her. Every time Honor reaches even to go near the baby she's like, 'Ahh,' and she crawls really fast. And she's like, 'I just want to hug you.' And I'm like, 'No!'"
On Haven's favorite products: "The baby, she likes the healing balm for some reason, or the wipes. Those are her two favorite things. She likes to pull all of the wipes out, and she likes to open and close and chews on the lid. I'm like, 'No, don't put it in your mouth.' The first week we had the counter spray, Honor and I were making cupcakes or something and there were sprinkles on them, and [Haven] kept eating . . . she kept putting more and more sprinkles and it was all over the counter. She kept eating the sprinkles and I was like, 'Stop eating the sprinkles, you haven't had dinner yet. No more sprinkles. You're going to be sugar cracked out on sprinkles, no more.' And she's totally nuts when she has too much sugar, like every kid, and so I squirted [the counter] with our counter spray and she started licking it with the counter spray on it. And I had that moment of like, 'Oh God!' And then I'm like, 'Wait, it's Honest. It's fine.' I mean, not fine — we rinsed it out, and obviously it's not good for her to ingest — but it wasn't that same panic moment I would have had if it were any other brand. I would be calling poison control."