Jessica Seinfeld Discusses Benefit of Vegetable Purees
Jessica Seinfeld Explains Why It's OK to Sneak Veggie Purees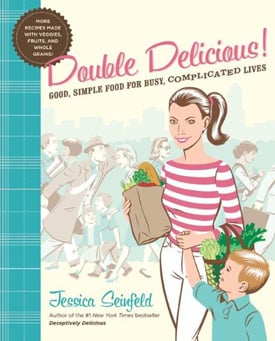 Pull out the blender! Two years after Jessica Seinfeld urged parents to sneak vegetable purees into their lil ones' meals, the Deceptively Delicious cook is back. This time, the mom of three and wife of comedian Jerry Seinfeld is making over the entire family's meals by adding fiber, whole grains, and more purees. Working with nutritionist Joy Bauer, Double Delicious ($16) takes dishes like chicken lo mein and turkey meatloaf and turns them into veggie-rich creations. I recently had the chance to chat with Jessica.
LilSugar: Sneaking food is a hot topic among parents; why are you for it?
Jessica Seinfeld: I believe if you can make your family's food better for you, why not? Let's say you're going to make waffles for your family, or you're going to buy waffles for your family. If I'm using an egg, if I'm using flour, what's the big deal about putting sweet potato in the waffle? The deception that goes on in our country with food involves food companies and how they advertise to people, how they say that something is high in fiber, when it is full of sugar and full of fat. That's the deception people should be focused on in the food world. I find this argument hilarious. Parents tell their children all kinds of things to make childhood more understandable. It's just a way for people to pick and make controversy where there is none.
LS: Your kids are getting older; at what point do you disclose all of a dish's ingredients to them?
JS: My kids have always known. My kids eat cauliflower puree, but they also eat cauliflower on the side of their plate, because every time I use a puree, I keep vegetables in plain sight for my children. There's never a moment where my children say "I don't eat vegetables." They always eat vegetables. They always have it in front of them. They always have known how important eating whole vegetables in their natural state are.
LS: Do your kids ever surprise you and ask for a healthy dish or order one while dining out?
JS: Yeah, sometimes. They usually like pizza, and spaghetti and meatballs, lasagna, and the things that I make all the time. So when we go out to dinner, they like to get the same things.
To see Jessica's best dinnertime tip, read more.
LS: Double Delicious includes shopping lists and tricks for busy moms. What do you think is preventing parents from making healthy choices for their tots, and what is the best way to overcome it?
JS: Convenience foods are more affordable and more conveniently placed for people. (They're) presented to people in a much more efficient way than whole fresh foods. It's just something our country makes more money on. Feeding our families foods that aren't good for us is a way our country and our economy is performing better. It's unfortunate. Farmers should be better subsidized, and fresh food should be more affordable, but unfortunately at this point it is not.
LS: What's your best dinnertime trick?
JS: Putting vegetables, raw crudités, raw carrots, raw celery, and peppers on the table before dinner's on the table so your children have something to munch on while you're getting dinner ready. I don't really care what they eat at that point afterwards. If they fill up on red peppers, that's alright by me!
Check back in with us tomorrow when Jessica tells us about Baby Buggy's latest collaboration with Target.