Jewelry For Pregnant Women
Maternity Alert Jewelry: Ga Ga or Gag?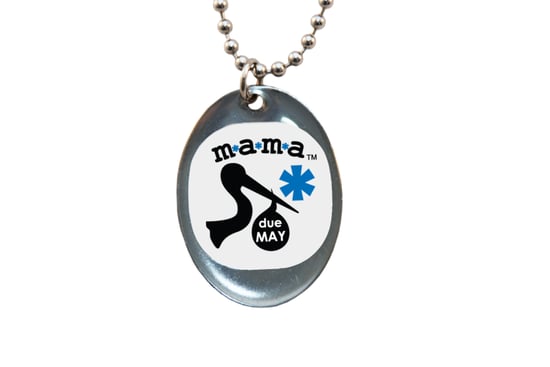 Forget a push present, what about a "pregnant, but not showing" gift? In the weeks before an expectant mama's bump makes its debut, it's virtually impossible to tell if someone's pregnant. The MAMA Jewelry Co. has this group of first trimester moms in mind.
According to the company, its Maternity Alert Jewelry ($20)— which is an oval pendant with a picture of stork and the month when the baby is due to arrive — is designed to "protect mother and unborn child in the case of an accident or other medical situation where mom cannot speak for herself." The company's founder was inspired when his newly pregnant wife left for the grocery store and he feared her getting into a car accident and not having the ability to tell the paramedics about her pregnancy. Each medic-alert-like pendant hangs from a classic ball chain and can be easily hidden beneath clothes until a couple is ready to make their pregnancy public.
What do you think? Would you want a piece of Maternity Alert Jewelry hanging around your neck in the early days of pregnancy?