Jillian Michaels Talks Putting Baby First
Who Do You Put First: Mom or Baby?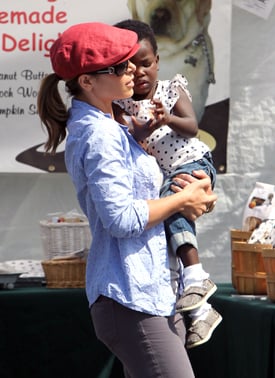 For years, Jillian Michaels has lectured contestants on The Biggest Loser about the importance of putting themselves (and their health) before everyone else in their lives. That was easy for the single trainer, but as many moms running full households can attest, putting Mama first can feel like a pipe dream.
Now that she's a mom of two — Michaels' adoption of 2-year-old Lukensia from Haiti was completed four days after her partner gave birth to a son, Phoenix — it appears the fitness guru's bark may be worse than her bite. In an extensive interview with People, she said, "I have to figure out how to take care of myself right now. Telling moms, 'You need to put yourself first'? It's impossible to put yourself first when you're a mom. . . . Parenting is not for sissies. You have to sacrifice and grow up."
It seems as if Michaels has changed her tune since becoming a mother. Do you agree with her?