Jim Bob and Michelle Duggar Don't Know If They Will Have More Children
Exclusive Interview! Michelle Duggar Moving From Mom to Grandma Role?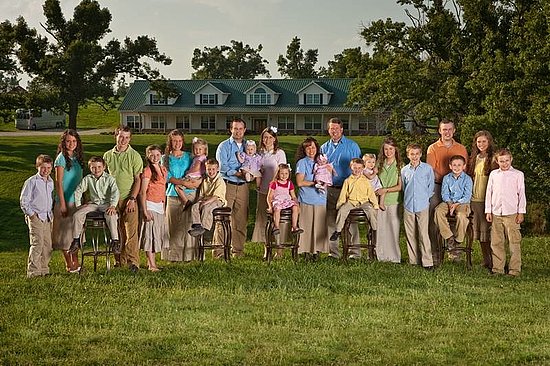 Parents never stop learning — even when they have 19 children! I had the chance to chat with Jim Bob and Michelle Duggar yesterday about their preemie's progress and whether they plan to expand their family. The couple were happy to report that Josie, now 7 1/2 months, has settled into their busy household.
LilSugar: How is Josie adjusting to such a big family after she had her parents all to herself in the hospital?
Michelle Duggar: Actually, she was used to having new faces every 12 hours at the hospital so she's probably feeling like it's a similar situation. Around here it's like every five minutes so it's been a good transition. The things that we are learning with a preemie are a little different. We have to be really careful about any runny noses, coughs, or sore throats. If anyone thinks they have anything, they can't be near her so I'll keep her upstairs in my room with the doors closed. If anyone wants to come see her, they have to pass through the door with the germ aid and go through a screening so they don't give her anything. She's still getting her little immune system established.
LS: How is Josie doing developmentally?
MD: In the preemie world, they call it her adjusted age versus her actual age. Yes, she's 7 1/2 months old, but her adjusted age is 4 1/2 months old so she's doing all the things that a 4-1/2-month-old would do so that's really great. They said she's not going to need physical therapy. Even in her weight — she's in the 75th percentile, which is amazing considering what she was 1 pound 6 ounces to start out and here she is at 11 pounds and 1 ounce. It's a miracle!
LS: As far as having more children, you said you're open to it despite having this scare with a preemie?
MD: I feel like each one of these children are a gift and watching sweet little Josie and just the miracle of her life — it's something that I do not take for granted for even just one minute. God says children are a gift and a blessing and we ask the lord (that he) give us a love for children like he loves children. My heart is open to more if God sees fit and I guess we'll just wait and see. I can't imagine my life without a single one of mine.
To see what Michelle and Jim Bob said about older women getting in-vitro to become mothers later in life, read more.
You're 43, which is young considering how many children you've birthed. There are women in their 50s and 60s having in-vitro to become mothers. What do you think about this?
MD: I don't really know what to think about it. I feel like in my personal situation, we're just enjoying the ones (children) that God has given us and I think different people have different reasons for wanting children later in life. Personally, I know there's a time clock usually that the lord gives and he shuts that off. You get your children when you're young and it's probably so you can chase after them and keep up because when you get older you get tired. It's a lot harder to get out there and run.
Jim Bob Duggar: (interjects) We'd rather be chasing grandkids (then)!
MD: It (having grandkids at that age) is a little bit different than giving birth to one at 58 or 60, you know? I don't know . . . that would just be quite an amazing feat!
JD: I think her (Michelle's) mom went through menopause shortly after 40 so we don't know if she'll (Michelle) have any more or not, but we are thankful for each one.
LS: Have you noticed many changes in being a young parent with Josh and now with Josie?
MD: I definitely can say that age catches up with you. I'm not as quick when I'm playing with the kids. I'm not as young as I think I am. In my mind, I think I'm still 20, but then I get out and play with the kids and come in and am hurt and I feel muscles I didn't know I had. Oh, man! I'm not that young anymore. Kids really do keep you young in that you are constantly busy. You don't have time to be sedentary, which is probably a good thing.
LS: By mainstream America's standards your family's lifestyle is modest or conservative; do you think that's the appeal of your show and why your family is so well-known?
MD: I think it's probably curiosity — how in the world can a family this size function? Of course, our heart is that we just want to encourage other families. We're still learning every day. These kids are a blessing and a gift and (parents should) really make the most of the time you have with them. Don't take the fact that they're here for granted.
The Duggars' new season kicks off tonight! Watch back-to-back episodes of 19 Kids and Counting at 9/8c on TLC. And, check back for the rest of our interview with Jim Bob and Michelle tomorrow!
Source: Discovery