Jim Bob and Michelle Duggar Talk About Parenting Preemie
Exclusive Interview! Jim Bob and Michelle Duggar Talk About Parenting Preemie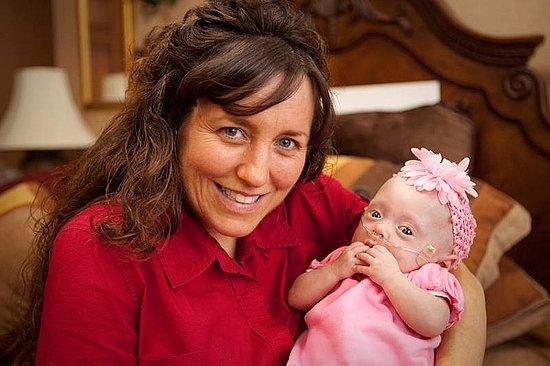 Michelle Duggar has given birth 17 times, but mothering a preemie has been a new experience for her. I recently had the chance to chat with the mom of 19 and her husband Jim Bob about Josie and how their family dynamic has changed since the baby's December arrival.
LilSugar: You mentioned taking health precautions, but what are some of the other adjustments parents have to make in tending to a preemie?
Michelle Duggar: Initially, her (Josie's) feeds were so different than those of a full-term baby. At first, it was just a few drops and then it was a continuous feed because they had her on a feeding tube. We had to start feeding from a bottle so I would pump my breast milk and put it in the bottle and she had to learn how to suck, swallow, and breathe and that was a whole new experience because I had to learn how to hold the bottle and help her as she started to choke and until she was able to learn that process. Of course, she's learned it really well!
We're probably doing the same things we did with all of our other children — playing with her, talking to her, and giving her a lot of stimulation when she is awake and having her playtime, but I'm more focused about it now than ever. I think — did we move her legs enough? Is she standing, jumping up and down, and moving enough? — I want to make sure she's getting all of that activity. I have a checklist in my mind and I have a chart of all of her feeds, poops, and when she goes tinkle — I write it all down. I did not ever do that with my others — it wasn't that big of a deal. With her, it's this idea of watching her grow and develop and we want to make sure she gets to each one of these landmarks so we can check it off. That's more of a difference. My family probably doesn't even notice.
To see the Duggar's tips for staying connected while a child in the hospital and find out how long they will tape, read more.
LS: Do you have any tips for how families can stay connected when they have a preemie in the hospital and other children at home?
Jim Bob Duggar: We did iPhone videos documenting Josie's progress.
MD: We'd even video Josie's room and show her drawers where we kept her blankets and sleepers that way they (the children) could see the nurses and the people that helped each day. They could be a part of Josie's life even though they couldn't be there. It was faster for us to video than to type it all out. It was an easier way.
LS: As far as the show, how long do you think you'll tape? Was it hard to have the cameras around during this intense period with Josie?
JD: People have seen us for the last six and half years and we've done a lot of fun things together. We have a good life. As we walked through the situation with Josie, which was the toughest time in our lives, we thought it was important to document that because our children learn more from our responses to things than they do from what we tell them. It's so important to try to respond the right way during a difficult time and have faith in God and watch him work out the challenges. We're so thankful that Josie has done so well.
Watch 19 Kids and Counting Tuesdays at 9/8c on TLC.
Source: Discovery