Jonathan Adler Tips For Designing a Kids Room
Jonathan Adler Shares Tot-Friendly Design Tips and the Philosophy Behind Happy Chic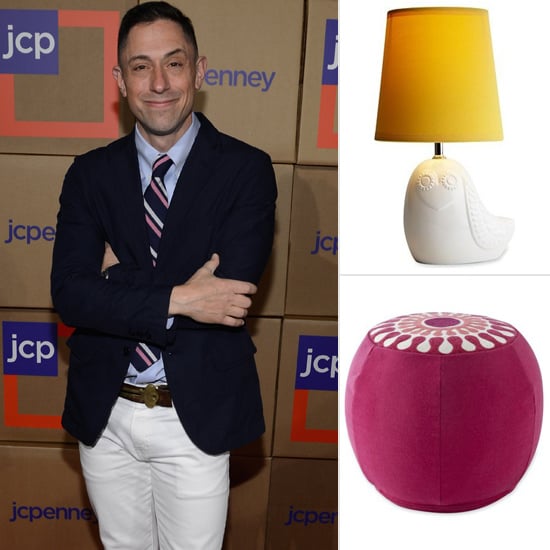 It's hard not to fall in love with Jonathan Adler's playful designs. The former potter took the design world by storm in 1994 with his fun, retro-inspired pieces featuring plenty of animals, modern designs, and cool patterns. The Jonathan Adler Junior Collection extended his philosophy to a new generation of pint-size design enthusiasts (and their mod-loving parents) with rugs, wallpaper, pillows, piggy banks, night-lights, and stuffed animals to decorate their rooms.
Now Jonathan is bringing his design philosophy to the masses with his new Happy Chic by Jonathan Adler shop in JCPenney's new home stores. Though the shop doesn't have any tot-specific pieces, there are several that would easily fit in a little one's room (like the Happy Chic by Jonathan Adler Lola Owl Accent Lamp ($35) and Happy Chic by Jonathan Adler Katie Round Pouf ($120) pictured above). I caught up with Jonathan at the JCPenney home store launch party last week to talk about decorating a home with kids and what Happy Chic is all about.
POPSUGAR: What is the one piece of design advice for parents who are decorating with kids in mind?
Jonathan Adler: No sharp corners, obvs! I hate decorating that's too precious. To me, comfort is always the first and foremost thing. You need to fill your house with stuff that you're not going to freak out if it gets ketchup on it.
PS: When you launched your junior collection, you said you launched it because you had a nephew and you wanted to design with him in mind. It's been a few years — are there things that you would add now that he's a little bit older?
JA: He's reached that stage where it's all about sports and characters. It happens. The nifty house I grew up in, is what got my design mojo going. Your house should trigger your child's imagination and make them want to be creative. I really think that's so important. Your house should make you want to be creative!
PS: The line is called Happy Chic, and I know that's your whole philosophy. What makes a home happy?
JA: Well, obviously the people are what makes a home happy! First and foremost! My design collection is really about creating a chic foundation, and that comes with some of the bigger pieces like the sofas, and the beds are like chic and neutral and classique and then with a layer of happy punctuation. Always glamorous, always chic, and always with a little twist.