Julianne Moore Talking About Kids
Julianne Moore Is Just as Awesome a Mom as You'd Imagine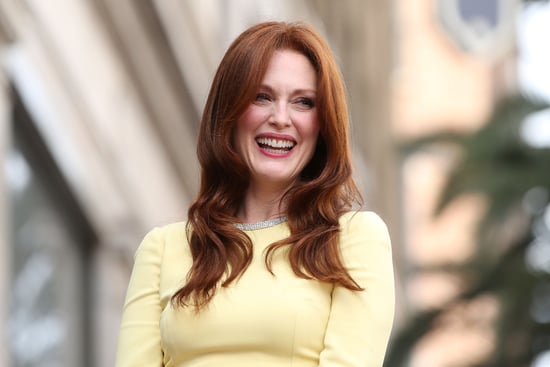 Anyone who has seen Julianne Moore's griping performance as a self-consumed rock and roll mom in What Maisie Knew should be aware — that was some really good acting. In actuality, the affable and warm Moore is as devoted and in-tune with her kids' needs as a mother could be. We caught up with the actress, children's author, and mother of two about the sweet inspiration for the FreckleFace Strawberry series, her simple solution to juggling a career and kids, and how she's taking her beloved books hi-tech.
POPSUGAR: The apps [Dreamtime Playtime and the Monster Maker Game] are such a fun complement to the FreckleFace Strawberry series. What made you decide to enhance your books with this interactive component?
Julianne Moore: I like the character so much, I was trying to keep it going. Dreamtime Playtime is a math-based app. It encourages early counting and sorting skills with a minimovie beforehand. She [FreckleFace Strawberry] is a character that you can feel good about. If you're sitting at a restaurant and want your kids to entertain themselves for a few minutes, you won't feel bad giving this to them. She's a real girl, she's entertaining, she's educational. It reinforces positive behavior — brushing your teeth, washing your hands. And instead of learning sorting with colors or shape, FreckleFace sorts her friends, which I think is really fun.
PS: To backtrack a bit, what inspired you to write children's books in the first place?
JM: I did it on a whim. A friend of mine suggested that I write something, and I thought it seemed kind of crazy. But my son was 7 at the time, and he wasn't liking his haircut, he wasn't liking the way his ears stuck out . . . he thought his toes were too big and funny looking. Seven is an age when kids really start to become kind of self-conscious and aware of themselves physically for the first time. So I remembered this nickname that I had because I had red hair. I wrote this first story without any expectations of it getting published or anything . . . but it did! So I kind of kept going with it. I really like reading to kids. I like their reactions, and I was a big reader as a child. It's a way to participate in their lives that's very meaningful to me, so I just kept doing it.
PS: And your other book, My Mom Is a Foreigner, but Not to Me was a tribute to your mom?
JM: Yes, it was. It was really an important book for me because it was a way to honor her. I think that it's a thing that a lot of kids growing up in the US experience — having a parent from another country — and the response to it has been just tremendous.
Keep reading to learn more about how Julianne juggles her career and kids, her family's most-treasured books, and their favorite holiday traditions.
PS: What were your kids' favorite books when they were younger?
JM: Anything by Maurice Sendak. I love all of his "Pierre" books — I think they're just hysterical. We love all the Kevin Henkes books . . . Chrysanthemum, Lilly's Purple Plastic Purse . . . I think he's just a master. I love Mo Willems, he's just tremendous. I really love making books funny for the kids. William Steig's Brave Irene is another one of my favorites.
PS: Your own children (Caleb, 16 and Liv, 11) are in the tween/teen age group. What's the policy on social media in your home? Do you let them use it?
JM: My son is 16 now, so he's in a different stage. He has a Facebook page, but my father's on Facebook, so he goes on there and reads his page all the time. I think the key to all these things is that they have to be monitored. My daughter has a phone that she uses to contact us, and she can text people, but I look at her texts, and I tell her that I'm looking at them. She has an Instagram account that I go through, so you're looking at a lot of pictures of puppies and cupcakes to make sure it's all OK. I think you allow it, but there's a lot of monitoring that you have to do. And that includes talking to them about what's appropriate and what's not, and discuss it constantly. You have to stay on top of it.
PS: As someone who is in the midst of an incredibly successful career, how do you balance work and family life? Are there any hard-and-fast rules that you follow as a working mom, or do you just take it day by day?
JM: I'm really lucky because I have a job that has a lot of flexibility. I am around for a lot of the time, and when I do work, it's pretty intense, so between my husband and I, we make sure that one of us is always home with the kids. I take either a shoot that's in town, or one where I'm able to commute, where I'll go away for a couple of days and then come back. That can be stressful, but it's also important. I can't take a job where I go to Australia for three months. It's just too much, and too far. That's how I handle it.
PS: Have you found that your family's needs and the way that you balance work and home life has changed throughout your kids' different ages and phases?
JM: Every stage is so, so different. When they were little, before they were in school, they were just always with me. When they were babies, we were all over the place. We were in London a lot, we were in Spain making a movie . . . When my daughter was a baby, I'd get up in the middle of the night and nurse her, then bring her to work with me in the morning. Now that they're older, the demands are different kinds of things. You have to go through their homework, show up at their basketball games, attend social things. It's always different, it's always interesting, and the challenges definitely change.
PS: How do your kids handle your fame, and how have you managed to do such an impressive job at keeping them out of the spotlight?
JM: Children always view you as their parent. They're not terribly interested in what you do for a living. I think they just really want a mom and a dad. We spend a lot of time together as a family, and that's always been the center of our lives. It's always been important to me that I communicate to them that what I do is my job. We have a life, we have a family, we have relationships, and then I have my job. And I really like what I do, but what I do when I'm there isn't the real me . . . it's just pretending. So I think they understand that. They know that it's a creative pursuit.
If I get stopped by someone who wants to take a picture when I'm out with them, I always say, "I don't take pictures when I'm with my children, but I'm happy to stop and say hello to you." I always want my children to know that they come first, they're my priority. It's just about communicating those things.
PS: Do you have any special holiday traditions in your family?
JM: We always have Thanksgiving here; we had 33 people this year! That's something that we've come to count on and enjoy. We're the ones that serve the big Thanksgiving dinner. And on Christmas Day, we always go to a basketball game. I like to have a nice dinner with just the four of us at home on Christmas Eve, and then in the morning, we have all the presents and stuff, go to our Knicks game, then go to someone else's house for dinner.