Julie Andrews Interview About Princesses
Julie Andrews on the Importance of Princess Culture, Princess Kate, and Her Favorite Roles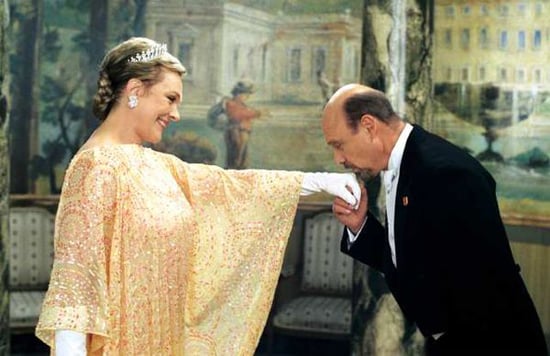 It's hard not to become giddy when talking about Julie Andrews. The legendary actress's career spans more than 50 years, with multiple generations of families still enjoying her library of work together — from Mary Poppins to The Princess Diaries. What many people don't know is that the 76-year-old Academy Award winner is also the coauthor — with her daughter Emma Walton Hamilton — of more than 20 children's books, including the just-released The Very Fairy Princess: Here Comes the Flower Girl!, part of the "Very Fairy Princess" series.
As far as meeting her in person — well as someone who can still recite virtually every line of The Sound of Music, it's a totally surreal experience. From the beautiful English accent that spoke to me from my favorite films to the fact that she still exudes the authoritativeness of the governesses she played, the experience was almost regal — which is why Andrews is perfectly cast as the spokeswoman for Disney and Target's first National Princess Week, which runs from April 22-28. I met up with the living legend, her daughter, and her granddaughter at a princess-themed tea — feather boas, scepters and all — to discuss the relevance of princesses today, working motherhood, and her favorite roles over the years.
On why playing princesses is really OK:
Julie Andrews: "My personal take on it is that they may be trying on for size what it feels like to be, say, a real lady. [It] perhaps, in some way, helps them find their own identity later in life. I do think fantasy and play of this kind — whatever it is, if you want to play at being a nurse, or if you want to play at being a florist — it's all important and should be allowed, because it would be an awfully sad place if we didn't try on those airs and have fun doing it."
On raising strong, independent, confident women in a culture saturated with princesses:
Emma Walton Hamilton: "Sometimes I think princesses are given an unfair rap. We compiled a list of over 70 contemporary princesses. In doing the research for that, I was reminded once again of the extraordinary work princesses do in the world. The charitable contributions, the causes they champion, the amount of good and service they contribute and provide. I think they're a wonderful example of being strong, feminine, and kind, and I don't think there's anything wrong with that."
On her favorite Disney princess:
Julie Andrews: "Mine has to be, because I've been involved with it, Cinderella. I played Cinderella when I was about 17 years old in England, and then when I came to America it was the first Rodgers and Hammerstein musical they wrote for me. So for me Cinderella has always resonated. And I love the rags to riches, kind of like my own story in a little way."
Keep reading for Andrews's thoughts on Princess Kate, the state of motherhood today, and her favorite role.
On how we're raising our children today:
Julie Andrews: "I think as long as they're being raised with love and kindness, that's all that matters. No matter where you are in life, if you've got enough parental strength behind and love and caring, you've got it made. There are a lot of very sad children in this world, but if they could have that, that would be what I would wish for."
On the importance of quality time:
Julie Andrews: "I did try to make islands of quality time in the day. I always tried to be home to cook breakfast for the kids and get them off to school no matter what — a good protein breakfast no matter what! The other thing is around 4 - 5:00 we all gathered for afternoon tea and shared the experiences of the day. As long as you can hang onto those moments of being together, it's good quality."
On writing as a mother-daughter team:
Emma: "It's a wonderful, organic process of finishing each other's sentences. When we first started we weren't sure what the process would be like, or what it would be like working together. It turned out to be this really happy surprise that by spending so much time together involved in a creative pursuit, it made it richer because somehow it made it free for us to be playful together and not just always be talking about family issues or aches and pains, politics, or whatever it might be."
On Princess Kate:
Julie Andrews: "I think she's terrific. What a bonus for us, Britain, and the public. Apart from her beauty, she knows exactly, seemingly, how to do it! She's careful and discreet and giving and gentle and enthusiastic and funny. To put all of those together at a young age is amazing. I have such good thoughts for her and wish her luck. It's not going to be easy!"
On how kids respond upon meeting her:
Julie Andrews: "I'm kind of blessed with both ends of families. So children will say, 'Granny loved you!' And the kids today will say, 'I loved you in Princess Diaries.' They don't necessarily remember until they've been shown Mary Poppins or Sound of Music. I'm very thrilled that they feel that they can instantly chat and be warm."
On her favorite of her family films:
Julie Andrews: "I suppose of them all, The Sound of Music. But I totally enjoyed making a film called Thoroughly Modern Milly, which I suppose you could call a family film. It was so deliciously silly and innocent and foolish and sweet. I had such fun doing it."