Is Kate Middleton Breastfeeding?
Is Kate Middleton Breastfeeding, and Should We Care?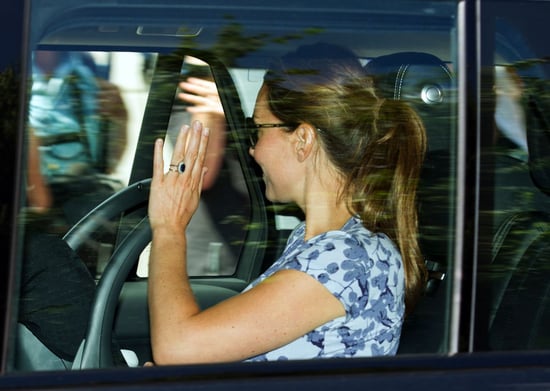 If you thought you felt pressure to breastfeed your baby — societal or otherwise — then imagine what Kate Middleton must be feeling. For the most watched new mom in the world right now, every decision she and William make is being scrutinized by parents and media everywhere. Just look at how people reacted to the swaddled prince riding in a car seat.
Though the duchess has not spoken publicly about her breastfeeding intentions, she may have revealed her decision by her wardrobe choice. While leaving Kensington Palace en route to her parents home yesterday, Kate was spotted in a lavender floral dress that looks just like Séraphine's Blossom Knot-Front Lavender Dress ($85), pictured below. Séraphine's dresses are designed for both maternity and postpartum wear, as their plunging necklines are ideal for easy nursing access.
While breastfeeding rates continue to increase in the US, in the UK, the rate is falling for the first time in years, and British lactivists, as well as breastfeeding advocates around the world, believe that should Kate decide to nurse Prince George and speak about it, it would influence other new moms to follow suit. In fact, an article in London's Telegraph urged the duchess to do so, saying, "What we really need is the Duchess of Cambridge to get her royal orbs out to feed our future monarch. And to be applauded — not seethed at — for doing so."
Do you agree? Does Kate Middleton have an obligation to become the poster child (or poster duchess) for breastfeeding?