Keeping Kids Safe During Flu Season
My Tiny Hands: Kid Friendly or Are You Kidding?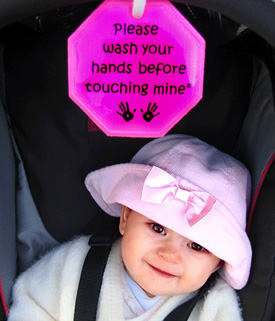 There's no harm in being extra cautious during flu season! From flu shots to extra hand washes, mamas across the country are preparing for influenza season and taking every necessary precaution to keep their lil ones germ free. For some, being prepared means ensuring that strangers keep their hands to themselves. The My Tiny Hands 'Please Wash" Sign ($8) was created by a mom who was tired of strangers reaching into her tot's stroller to stroke her hands and face. The silicone rubber signs attach directly to strollers and car seats, offering a warning to passersby. Is the sign too much or just what the doctor ordered during flu season.