Keeping Kids Safe Online
3 Tips For Keeping Kids Safe Online
Here's a post from our partners at BabyCenter! Every week, we bring you the best parenting and lifestyle stories from the experts at BabyCenter, including this post about Internet safety.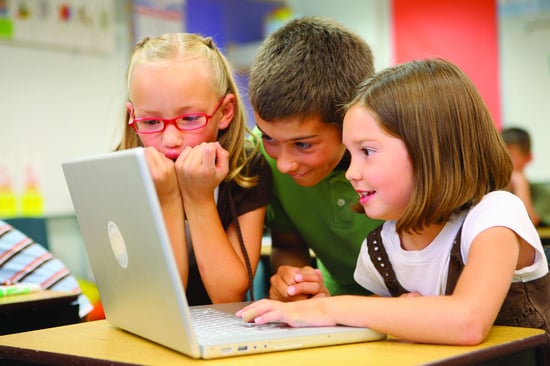 My idea was to write this post about our kids and how to protect and manage the time they spend online. I wanted to give you lots of really useful tips and tricks and point you in the direction of sites and software that could help this challenging side of parenting.
Related: 10 creative reading nooks for kids
But alas, I'm just like any other mom out there, trying to manage a job, a husband, a home, and my children. Six, to be exact. I don't have any special secrets, specific software, or foolproof way to keep your child innocent. In fact, I was overwhelmed just trying to write this — I'm still trying to figure all this out myself.
The Internet has made our parenting job more difficult 10 times over, and I'm kind of bitter about the whole thing. Part of me just wants to bury my head in the sand, but I won't. Instead, I'm going to share with you what I do to manage my children's time online — on their phone and iPad, because those are the two main devices they will be on this Summer. I've decided to restrict our laptop entirely. We'll save it for Minecraft and schoolwork only — and it can only be accessed in the living room or kitchen.
Laying some basic ground rules
If your child is 14 and under, they really have no business on social media. What I tell my 11-, 12-, and 14-year-old sons, "Don't even ask. Bye."
Stress this simple step: only accept friend request from IRL friends. "IRL" means "in real life." This makes it easier to manage their Facebook activity. Now that my son is almost 16, he allows people to follow him that he doesn't know, but I constantly remind him to use caution.
Have them turn in their phone at bedtime. They need a full night's rest, and there is just too much temptation to text, scroll through Instagram, send a video, or chat with friends.
Remind them that they are responsible for whatever they put out on the Interwebs. Photos and videos don't go away.
Future employers, spouses, and even your mother-in-law (ahem) will see what you've posted at some point down the line.
Make sure you stress to your child that a person may not be who they appear to be online. That cute girl who likes all of your status updates? She could be a 45-year-old creeper that wants to send you "pics."
Teach your child online etiquette. Rude comments, insults, bullying behavior, and crude humor isn't OK from your vantage point behind a computer. If you wouldn't say it to someone's face, then don't type it as a reply or comment.
Keep reading for more Internet safety tips.
Get familiar with your parental controls and restrictions
If your child has an iPad, iPod, or an iPod Touch, there are ways for you to completely eliminate their web browsing capacity under Settings >> General >> Restrictions. Apple has made it very easy to child-proof your iPad. If they have plenty of fun apps to choose from, they don't need Safari. Or YouTube, for that matter. YouTube is where I have the most challenges.
Turned off in-app purchases. My 14-year-old son had a fit when he discovered he couldn't purchase an app that was rated M for mature. Sorry, buddy. He was only able to purchase and play games that were rated T for teen, ages 13+.
Several of his zombie and war games disappeared off his home screen when I set the game ratings.
Consider installing an Internet filter
A smart way to supervise what your child sees online is to install an Internet filter, such as CYBERsitter, Net Nanny, or Qustodio.
Even if you choose to use a filter, it doesn't catch everything. Parents should still use precaution.
Remember that Internet filters will monitor everyone's online activity, including Mom and Dad.
This certainly isn't an exhaustive list, but a good way to get started on monitoring your child's online activity. This is uncharted territory for an entire generation of parents and their children. I hope we can make the Internet a safer place for our kids.
More great reads from BabyCenter:
Dad creates memorable photo milestones for his baby
What to do when baby hates tummy time
How to have a job and manage a family at the same time
Adorable babies making funny faces