Keeping Track of the Funny Things Kids Say
5 Ways to Save the Candid Things Your Children Say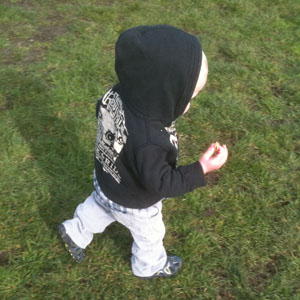 Incredible things come out of the mouths of babes, but it's hard to keep track of all the tidbits your tot says — especially if you are mother to many. Some people write the anecdotes down, and others just commit them to memory by repeating them to anyone who will listen, but I've come up with a few easy ways to keep a record of these utterances.
Frame it! Take your favorite picture of your child and frame it. While a black and white photograph works best, anything will do. Use a dry erase marker to scribble the latest saying across the top or bottom of the glass and it becomes an ever changing work of art. If you have more than one kiddo, create a wall of quotes.
Stencil it! Looking for design inspiration? Fill the walls of your child's room by penning, painting, or stenciling them with the family-famous sayings.
Journal it! Fill the pages of a leather-bound journal with all the wonderful things that come out of your child's mouth. Then take the time to read through them every so often.
Facebook it! Share your youngster's musings with family and friends via Facebook so everyone can appreciate your wee one's wit.
Twitter it! Since tweets are 140 characters or less, a private account is an excellent way to technologically chronicle your offspring's thoughts.