Kerri Walsh Pregnant at the Olympics
3-Time Gold Medalist Kerri Walsh Was Pregnant at the Olympics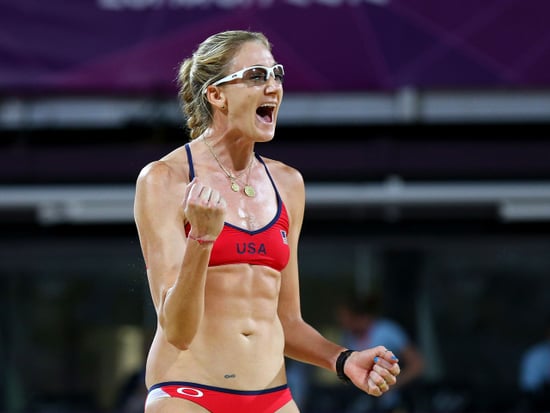 If you thought you saw more than the glimmer of Olympic gold in Kerri Walsh's eyes this Summer, it turns out you were right! Though her body certainly did nothing to indicate that something was stirring — thanks to those skimpy beach volleyball uniforms, little is left to fans' imaginations — the four-time Olympian just announced that not only is she pregnant, but she was five weeks along when she took home her third gold medal!
Appearing on the Today show this morning, Walsh and her husband, Casey Jennings, who are already parents to Joey, 3, and Sundance, 2, announced the news. They also shared that she was feeling unusually moody in London, and her volleyball partner, Misty May-Treanor, suggested that she may be pregnant.
I thought it could have been the stress of the Games, and travel kind of throws your schedule off, but I knew. At some point, you're late and then you start feeling something. And I definitely started feeling something in London.
Though she didn't know it at the time, Walsh wasn't the only expectant mama at the Games. Nur Suryani Mohamed Taibi, a Malaysian shooter competing in the 10-meter air rifle was 35 weeks along when she arrived at her event, making her the "most pregnant woman in Olympic history." But unbeknownst to Walsh, she became the first pregnant woman ever to win an Olympic gold medal! Who says you can't exercise while pregnant!