Kid-Friendly Green Morning Smoothie Recipe
A Family-Friendly Smoothie For the Morning Rush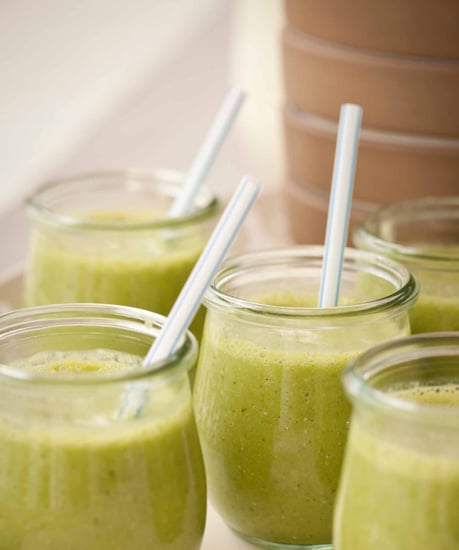 There's nothing like a quick, easy, and healthful breakfast to get the morning started right, and this recipe from Melissa d'Arabian, host and author of 10 Dollar Dinners, does just that. Plus, it sneaks in spinach, which you might not think belongs at the breakfast table until giving this smoothie a try. Along with being seriously fast, the green morning smoothie is also a d'Arabian family favorite.
Keep reading for the recipe and Melissa's special mix-and-match mash-up ideas!
Photo copyright 2012 Ben Fin
Green Morning Smoothies
Reprinted from Ten Dollar Dinners, Copyright 2012 by Melissa d'Arabian. Published by Clarkson Potter, a division of Random House Inc.
Ingredients
2 cups vanilla almond, coconut, or soy milk
1/2 cup whole oats
1-1/4 cups fresh, frozen, or canned peaches or mango cubes
1 cup ice cubes
1 cup baby spinach, loosely packed
1 tablespoon honey
1 teaspoon vanilla extract
2 bananas
Directions
Place the milk and oats in a blender, and blend for 15 seconds on high. Add the peaches, ice, spinach, honey, vanilla, and bananas, and blend until very smooth, 45 seconds. Serve in glasses.
Serves 4.
Green Smoothie Mix-and-Match Mash-Up!
There are endless possibilities as to what fruits and veggies can get tossed into a blender to make a green smoothie. Remember to keep the proportions of fruits to vegetables in check for a sweet flavor profile that even kids will love.
Light-Colored (not red) Fruits
Apples
Avocados
Bananas
Grapefruit
Green grapes
Kiwis
Nectarines, frozen or fresh (peeled)
Oranges
Peaches, frozen or fresh (peeled)
Pears
Pineapple
Green Vegetables
Carrots (they're not green but are a sweet addition)
Celery
Cucumbers
Green cabbage
Kale
Parsley
Spinach
Swiss chard
Extras!
Bran cereal (be sure to blend the smoothie really well)
Fresh ginger (just a touch)
Honey
Maple syrup
Peanut butter or almond butter
Raw oats
Vanilla extract
White beans
Information
Category

Breakfast/Brunch

Cuisine

North American