Kid-Friendly Naptime Chef Shrimp Recipe
Dinnertime Crunch: The Naptime Chef's Spicy Citrus Grilled Shrimp
Our tasty and easy Dinnertime Crunch series continues with celebrity chefs and restaurateurs sharing their favorite 30-minute weeknight dinners that help Mom and Dad spend more time with the kids each night. Today's recipe comes from Kelsey Banfield, The Naptime Chef.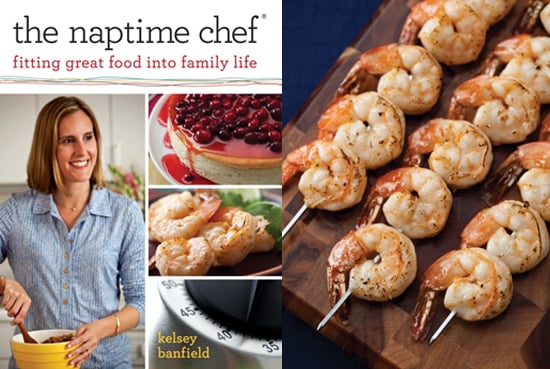 A harried schoolnight dinner routine can easily be likened to life with a newborn — everybody's hungry and fussy and there's no food on the table. That's why I've always loved the premise around The Naptime Chef. What started out as Kelsey Banfield's blog about meals she could prepare during baby Daphne's naptime and just pop into the oven at dinnertime has morphed into The Naptime Chef. Complete with stopwatch precision to help moms figure out how much they can prepare depending on their own tot's nap length, it can easily be incorporated into any busy parent's life. Simply do the prep work in the morning while everyone's getting dressed or during homework time, and a meal can be ready when you are. Kelsey's sharing her spicy citrus grilled shrimp with us, which she says "can easily be prepared at any time during the day and grilled up in no time for dinner."
Keep reading for Kelsey's recipe.
Spicy Citrus Grilled Shrimp
From The Naptime Chef by Kelsey Banfield
Ingredients
20 large shrimp, shelled and deveined with tails left on
3/4 cup olive oil
1/4 cup freshly squeezed lemon juice
6 garlic cloves, minced
1/2 teaspoon cayenne pepper
1/2 teaspoon kosher salt
Directions
Prepare 4 skewers: If using wooden skewers, be sure to soak them in water for 5 minutes before adding the shrimp so that they do not burn on the grill. Place 5 shrimp on each skewer so that they are just touching, but not too close together.
In a small bowl, whisk together the olive oil, lemon juice, minced garlic, cayenne pepper, and salt. Pour the mixture into a large plastic freezer bag (1 gallon size) and add the shrimp skewers. Swish the mixture around the shrimp in the bag so that they are totally covered. Seal and place the bag inside a second bag or on a dish in the refrigerator and marinate the shrimp for at least 4 hours.
Heat the grill or a stovetop grill pan to medium heat and add the marinated shrimp skewers. Grill the skewers for about 3 minutes per side, or until the shrimp are pink and cooked through.
Makes 4 servings
Make-Ahead Tips: This recipe doubles or triples easily. If making a large batch, pour the marinade into a large baking dish and submerge the shrimp to marinate on the skewers. Then cover it with plastic and refrigerate them until right before grilling.
Information
Category

Main Dishes, Shellfish

Cuisine

North American