Kid-Friendly Oven-Baked Eggplant Parmesan
30-Minute Dinner: Easy, Oven-Baked Eggplant Parmesan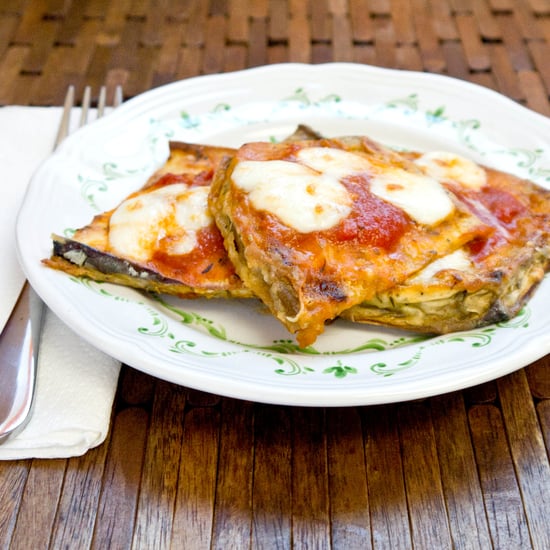 Cut the calories (and all that coating and frying) with this recipe for easy oven-baked eggplant Parmesan. Even if your lil one isn't a big fan of the earthy Fall crop, she'll love it nice and crisp, slathered with her favorite pasta sauce, and topped with a layer of fresh mozzarella and Parmesan cheese. Serve with pasta and a big salad, and dinner is on the table in less than 30 minutes, making this a perfect weeknight meal. And your tot can help with the fun and messy part of coating the eggplant with flour, getting her more excited to give this dish a try.
Keep reading for the delicious recipe.
Baked Eggplant Parmesan
From Sarah Lipoff, LilSugar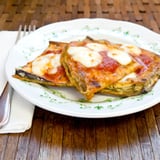 Ingredients
1 large eggplant
1 cup milk
1 teaspoon salt
1 cup flour
1 cup plain breadcrumbs
1 tablespoon Italian seasoning
1 tablespoon vegetable oil
1 cup pasta sauce
Fresh mozzarella cheese
Fresh Parmesan cheese
Directions
Preheat your oven to 425°F, and get out a large mixing bowl. Invite your child to measure, and add the milk and salt to the bowl while you slice the eggplant into 1/2-inch-thick rounds. You can remove the skin from the eggplant or leave it on, whichever your family prefers.
Mix the milk and salt until incorporated, and then place the sliced eggplant in the mixing bowl to soak for at least 20 minutes. The milk and salt help remove the bitterness from the eggplant and act as the first step of the coating process.
Invite your child to measure the flour, breadcrumbs, and Italian seasoning, and then mix together in another mixing bowl. Then measure and add the vegetable oil to a sheet pan, and tilt and turn until the entire area is covered. If you need a bit more oil, then give the pan an additional drizzle.
Now for the messy part! Remove a slice of eggplant from the milk and press into the breadcrumb flour mixture. Flip so both sides are covered, give a little shake over the bowl, and then place on the oiled sheet pan.
Your child can continue coating and placing the eggplant until all the slices are on the sheet pan. Place in the oven and bake for 10-minutes.
Carefully flip the eggplant and bake for an additional 10 minutes, or until both sides are golden brown.
Remove the crisp rounds from the oven, and top each with a spoonful of your family's favorite pasta sauce and a crumble of fresh mozzarella cheese.

Place the eggplant back in the oven until the cheese is bubbling. Remove and sprinkle with a grating of fresh Parmesan cheese. Serve with pasta or on its own for a healthy dinner.
Makes four servings.
Information
Category

Other, Main Dishes

Cuisine

Italian