Kid-Friendly Pasta With Vegetables
20-Minute Pasta With Spring Vegetables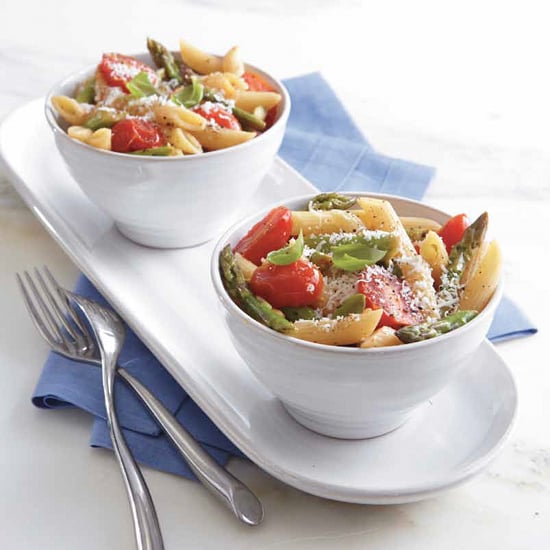 When I'm stuck in a rut with tomato sauces, I turn to veggies. Sautéed in a little olive oil with lemon juice, they make a bowl of pasta look festive and appealing to kids. They're great as a "sauce" on their own, or pour in a little cream if you'd like a richer sauce. Either way, this is a great way to enjoy the flavors of Spring. Keep reading.

Ingredients
1 pound penne or orechiette
3 tbsp. olive oil
1 cup yellow onion, diced
1 cup fresh corn kernels
1 cup asparagus, ends trimmed and sliced into 1/2-inch pieces
1 lemon, zested and juiced
1 pint grape or cherry tomatoes, cut in half
1/2 cup heavy whipping cream
Kosher salt and freshly ground pepper
Parmigiano-Reggiano
Preparation
Bring a large pot of salted water to a boil for the pasta. Cook the pasta according to the directions on the box. 
While the water is coming to a boil, start the sauce. In a large sauté pan over medium heat, warm the 3 tablespoons of olive oil. Add the onion and sauté until translucent, about 5 minutes. Add the corn, asparagus, lemon zest, and 2 tablespoons of lemon juice. Cook, stirring, until the asparagus loses its bite, about 2-3 minutes. Stir in the tomatoes and cook for about 1 minute, or just until they soften a little bit. Remove from the heat and stir in ½ cup of the cream (optional). 
Before draining the pasta, reserve 1 cup of the cooking liquid. Drain the pasta and return it to its pot. Add the sauce and stir to combine.
Now it's time to make it your own! If you want it to be creamier, add a little more cream. To thin out the sauce and make it a little silkier, add a splash of the pasta water. You'll be amazed by what it does for the sauce. For more bite, you can add another squeeze of lemon juice. Or if you omitted the cream, just add more lemon juice and olive oil until you like it. No matter what, taste for salt and pepper at the end.
Serve in warmed pasta bowls with a generous sprinkling of Parmigiano-Reggiano.
Serves 4
Amanda Haas is a cookbook author, cooking video host, and the founder of One Family One Meal, a website that helps families menu plan, grocery shop, and cook on a budget. Her cookbook, Real Family Food, features this and other delicious family-friendly recipes, as well as simple tips for bringing your family together around the table and a strategy for meal planning, budgeting, and shopping.
Source: Inken Chrisman