Kid-Friendly Pumpkin Muffins
Fall Flavor: Pumpkin Surprise Muffins
Invite your child into the kitchen to make these quick and easy muffins that have a hidden sweet treat. Instead of topping the flavorful mini cakes with frosting, it's tucked inside. Along with capturing the flavor of Fall, the muffins are low in sugar and fat and packed with antioxidants and dietary fiber thanks to healthy pumpkin puree. Bring your tot to your baking station, and he will learn culinary basics while whipping up these flavorful Fall treats that are perfect for snacking or taking to any Autumn celebration.
Keep reading for the sweet directions.
Pumpkin Surprise Muffins
From Sarah Lipoff, LilSugar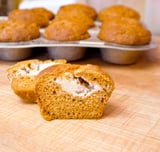 Ingredients
For the Muffins:
1 15-ounce can pumpkin puree
1/2 cup brown sugar
1/4 teaspoon vanilla
1/4 teaspoon cinnamon
2 eggs
1 tablespoon vegetable oil
1/4 cup plain yogurt
1 teaspoon baking soda
1 teaspoon baking powder
1 1/2 cup flour
White sugar for dusting muffins (optional)
For the Filling:
4 ounces room temperature cream cheese
1/4 teaspoon vanilla
1/4 teaspoon cinnamon
1/4 cup powdered sugar
Directions
Preheat your oven to 375F. Invite your child to mix together the pumpkin puree, brown sugar, vanilla, and cinnamon, stirring until the mixture is nice and smooth.
Carefully break the eggs and add to the pumpkin batter along with the vegetable oil and yogurt. Stir until the eggs are incorporated.
Sprinkle in the baking soda and baking powder and then measure and add the flour to create a smooth pumpkin muffin batter.
Lightly grease a muffin tin and then invite your child to place a big spoonful of the batter in each muffin cup. Along learning basic culinary skills, scooping the pumpkin mixture into the muffin tins encourages your tot's hand-eye coordination.
To make the yummy surprise hidden in each pumpkin muffin, whip together the cream cheese, vanilla, cinnamon, and powdered sugar.
Now your child can put a small spoonful of the creamy filling in the center of each muffin tin, evenly distributing the filling so each of the muffins has the same amount.
Top each muffin with another dollop of the pumpkin batter covering the dollop of creamy filling.

Bake the muffins for 22 to 25 minutes or until the tops have slightly browned. To create a sweet crust to the muffins, give each a sprinkle of sugar before placing in the oven to bake.
Makes 12 muffins
Information
Category

Snacks

Cuisine

North American