Kid Friendly Rosh Hashanah Recipe
Round Apple Challah For a Sweet New Year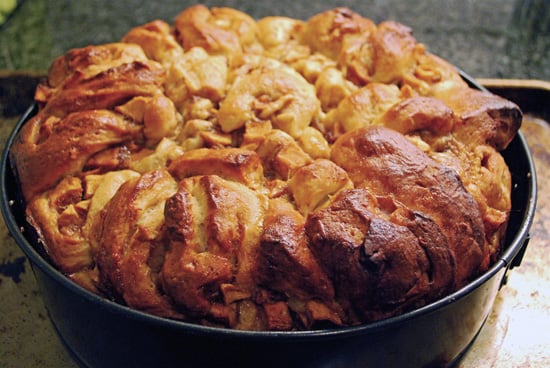 Tear off a piece of sweetness! Rosh Hashanah, the Jewish New Year, begins at sundown tonight, and the holiday is rich in symbolism and tradition. The standard Friday night challah (or egg bread) is braided into a circle to celebrate the cyclical nature of the calendar while apples (also round) and honey are eaten to usher in a sweet new year.
While mom (or grandma) may do the bulk of the holiday cooking, inviting lil ones in to the meal prep process is easy and fun for the whole family. This round apple challah is filled with plenty of kid-friendly ingredients (apples and sugar) and needs a lot a kneading – a task practically calling for tiny hands!
See the recipe and step-by-step directions when you.
Ingredients
Dough Ingredients
1 cup warm water (110 degrees F)
1/2 cup sugar
1/2 cup oil or melted butter
2 eggs
2 teaspoons vanilla
2 1/2 teaspoons salt
1/2 teaspoon cinnamon
2 tablespoons dry yeast
5 to 6 cups flour
Apple Filling
3 cups coarsely chopped apples
1/2 cup sugar
1 tablespoon cinnamon
1 tablespoon lemon juice (skip if apples are tart)
Egg Wash
1 beaten egg
1 teaspoon sugar
Coarse sugar, for sprinkling (optional)
Directions
In a large mixing bowl, combine the first seven dough ingredients, in order listed. Stir in a cup or two of the flour, then add yeast.
Add enough additional flour to equal about 5 cups, and stir/knead into a smooth dough, adding additional flour if needed. Knead dough for 8-10 minutes. Shape into a ball, place in a greased bowl, cover, and let rise in a warm place until doubled, about 45-60 minutes.
Place apple filling ingredients in a medium bowl and toss to coat. Set aside.
Punch down the risen dough, kneading to remove excess air bubbles. On a lightly-floured surface, roll the dough into a large round, about 1/2-inch thick. Spread apple mixture over the dough.
Fold the edges of the dough over the apples and continue to fold/roll the dough to make one big lump with the filling enclosed. Let rest 5 minutes.
Grease a 10-inch springform pan. Place springform pan on a large cookie sheet (to catch any leaks during rising/baking).
Using a sharp knife, cut off chunks of the dough and place them in the prepared pan. You should end up with 15-20 chunks of dough (though a particular number doesn't matter). The apple pieces should be randomly dispersed throughout the dough chunks. Sprinkle with any escaped apple pieces.
Combine the egg and sugar, and then dab the egg wash over the top of the dough. Sprinkle with coarse sugar if desired. Cover gently with a piece of plastic wrap and place pan in a warm location to rise.
When dough has almost doubled in size, preheat oven to 350 degrees and then place baking sheet/springform in the middle of the oven (remove the piece of plastic wrap first, of course!) to bake for 45-55 minutes or until done. When I make this, usually the edges of the top get well-browned before the middle is cooked. So, after about 25-30 minutes, I cover the darker areas loosely with foil — sometimes forming a large loose "ring" of foil (with no foil in the middle) to lay on top.
When challah is done, remove from the oven and cool in the pan for 10 minutes. Turn out of pan onto a cooling rack and cover with a clean towel until completely cool.
Information
Category

Breads

Cuisine

Jewish