Kid-Friendly Turkey Cutlet Recipe
Dinnertime Crunch: Levon Wallace's Quick and Tasty Whole Wheat Pretzel Cutlets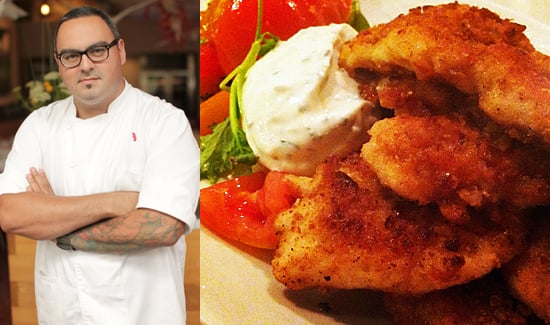 Our tasty and easy Dinnertime Crunch series continues with celebrity chefs and restauranteurs sharing their favorite 30-minute weeknight dinners that help Mom spend more time with her kids each night. Today's recipes come from chef Levon Wallace, executive chef of Louisville, KY's acclaimed Proof on Main and a dad of two.
When Louisville-based chef Levon Wallace heads home to his two kids, he knows that his gourmet offerings from Proof on Main take far too long to prepare for a weeknight dinner. His solution is a turkey cutlet that uses one of the tots' favorite snacks and takes less then a half-hour to prepare. It's so tasty, that his restaurant staff even ask for it!
He told us, "This spin on chicken fingers is a favorite at my house, and we do it at least once a week because it's so easy and the kids love it! I often have to make extra to make up for the snaking the goes on behind the scenes if I'm making dinner. The turkey is so simple to prep that I'll often do a whole turkey breast [and] freeze the uncooked portions in preportioned bags for a quick go-to meal option. When stuffed between a pretzel roll with sliced tomatoes and arugula, this makes for an awesome, grown-up treat!"
Keep reading for the easy weeknight recipe.
Source: Josh Meredith
Whole Wheat Pretzel Turkey Cutlets
Levon Wallace, executive chef, Proof on Main, Louisville, KY
Ingredients
For cutlets:
2 cups whole wheat pretzels
1 cup whole wheat bread crumbs
1-1/5 pounds organic turkey breast, sliced into 1/2-inch cutlets
2 Tbsp butter
3 Tbsp light olive oil or canola oil
Paper towels for draining
For Greek yogurt ranch dressing:
1 cup non- or low-fat Greek milk yogurt (or yogurt of choice)
2 Tbsp fresh chives, finely chopped
1 Tbsp fresh parsley, finely chopped
1/2 tsp garlic powder (or 1 small garlic clove, minced)
1 Tbsp lemon juice
1 tsp honey
1/2 tsp Dijon mustard
Kosher salt to taste
Directions
Place pretzels in a food processor and pulse until finely broken down into small pieces.
Combine with bread crumbs and mix well; taste for salt, as some pretzels already have a good amount on them. Place pretzel crumb mixture in a shallow baking dish to give you room to work.
Place one turkey cutlet on pretzel crumbs, and roll over to cover both sides. Firmly press crumb mix into turkey cutlet. This will flatten your turkey cutlet to a little over a quarter of an inch, making cooking time a breeze. Set aside on a baking sheet. Repeat with the rest of your turkey cutlets.
In heavy-bottomed skillet, heat oil over medium-high heat. Add 3-4 cutlets and 1 Tbsp of butter and cook for 2 minutes before turning over. Add remaining 1Tbsp of butter when you turn over the cutlets, and cook for an additional 2 minutes. Drain on paper towels and repeat if necessary.
For Greek Yogurt Ranch Dressing:
Whisk all ingredients and store in the fridge up to 4 days, if it lasts that long!
Prep time: about 15 minutes
Cooking time: less than 10 minutes
Information
Category

Poultry, Main Dishes

Cuisine

North American