Kiddie Scooter Prices
Simple or Swank: Scooters Add Some Pep to a Student's Step
Speed up the walk to school with a scooter! Made for youngsters, these models boast three wheels and wider foot decks for more stability than the big kid versions. Since your tot will be whizzing by his classmates, there's no longer an excuse for being tardy.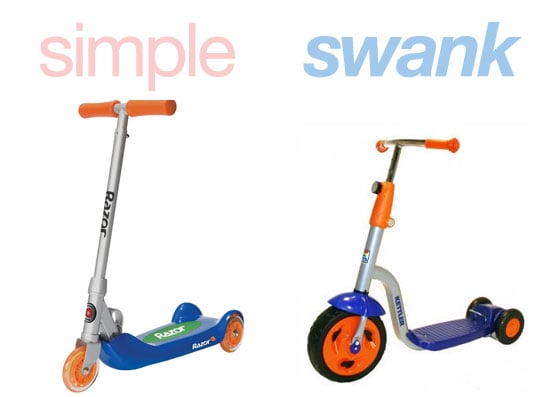 Simple: This Razr Jr. scooter ($40) is stable, stylish, and folds up for easy storage (and mom to carry) when the rider is too tired to scoot. Made for children age 3 and up, it holds kids until they weight 45 pounds.
Swank: The Kettler Thunder scooter ($120) adjusts to meet the height of your 18-month to 4-year-old, and is made to hold up to 100 pounds. The big front tire allows your tot some time to perfect his balancing act.
Which do you prefer?