Kids and Computers
Little Tikes Young Explorer Computer: Ga Ga or Gag?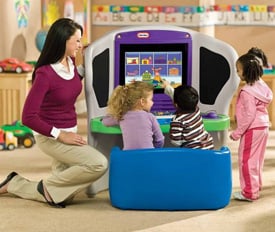 There's no need to fight your lil one for computer time if they have the new Little Tikes Young Explorer computer at their fingertips. The company that brought us the Cozy Coupe may be best known for its large, virtually indestructible outdoor toys, but is entering the kiddie tech area with a furniture-computer combo piece designed to introduce tots to technology.
With an estimated 16 million US children between the ages of two and 11 went online just in the month of May last year, it is no surprise that the company is focusing attention on preschool computer users. The Young Explorer seats two tots, has both left- and right-handed mousepads built in and comes equipped with Microsoft Windows. At $2,600, the piece is more likely to be found in a preschool, than an individual's home, but tell us, would you even want one at home?